DAY 1: SACRED VALLEY OF THE INCAS (Pisac + Moray + Maras Salineras + Ollantaytambo)
We start this beautiful day at 7:30am, when your guide picks you up at your Cusco hotel in our private van. Our route to the Sacred Valley of the Incas leads us towards Pisac. We stop first at the Mirador of Taray to enjoy an expansive view of the Urubamba valley and its traditional farming villages. You will see how the agriculture in the Sacred Valley has changed little in the past five hundred years. Onward, we drive to the archeological site of Pisac, where you can see an impressive Inca cemetery with more than 2,000 tombs. There, we can admire the carefully engineered farming terraces carved into the mountain, explore the Inca tunnel and the religious area of this important citadel. Here, we will spend about 2 hours, exploring the Inca city. Then, we head down to the colorful market of Pisac, spend about 20 minutes visiting it and then drive to Urubamba for lunch.
Our next stop is the fascinating archeological site of Moray also known as "The Greenhouse of the Incas" a deep basin of architectural wonder. Levels of terraces are carved into a huge bowl, which was carefully engineered by the Incas. The terraces have varied microclimates depending on how deep into the bowl they are placed.  Archeologists believe that they were used by the Incas to discover the optimal growing conditions for their crops and experiment in hybridization.
Continuing on our journey to the colonial town of Maras, we look down onto the pre-Inca salt "mines," called salineras in Spanish. Thousands of salt pans have been passed down through countless generations and used for salt extraction since before Inca times. A hot spring at the top of the valley discharges a small stream of heavily salt laden water, which is diverted into salt pans and evaporated to produce salt. This is one of the few places in the world where you can find naturally pink salt!
Finally, we drive to Ollantaytambo, taking the time to explore the Inca village that has remained intact since Inca times and the massive Inca Ruins, with a tour provided by our guide. Visit the massive architecture of the Sun Temple at the top of the formidable terraces and learn about the importance of this site for the Inca during the beginning of the Spanish conquest. Here you spend the night at your hotel in Ollantaytambo, ready to start the Inca Trail the next day.
2* Accommodations: Veronica View Hotel or Tunupa Lodge
3* Accommodation: Pakaritampu Hotel or El Alberge
There are no 4* hotels in Ollantaytambo.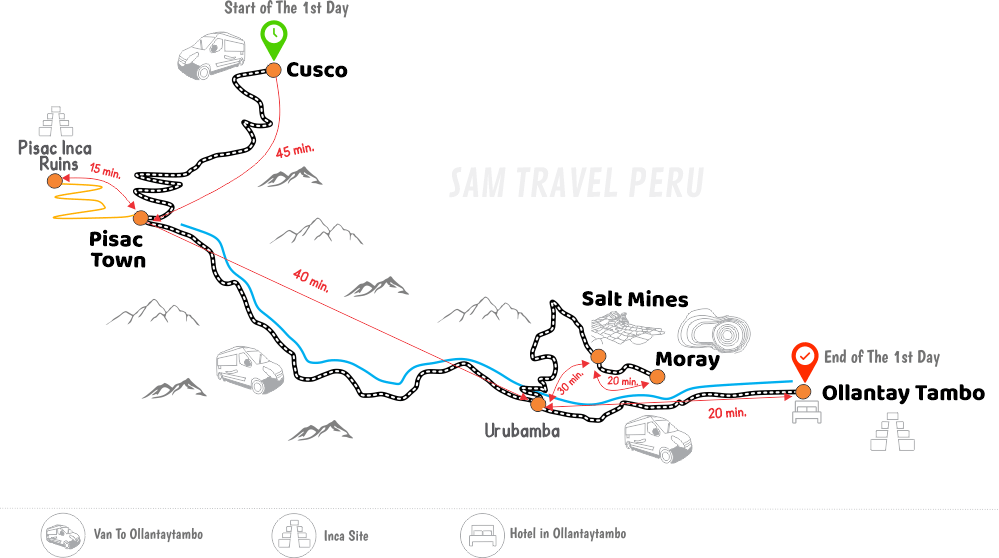 Day 2: Ollantaytambo – Km104 – Wiñay Wayna – Sun Gate – Machu Picchu – Aguas Calientes – Cusco
Your guide will go with you from your hotel at 5:30 am for the Ollantaytambo train station for the 6:10am Expedition train. Before boarding the train, your guide will provide your picnic lunch, which you carry in your daypack. After an hour 15 minutes train ride, your guide will get off the train with you at the famous Km104, where your hike begins! (2,000m/6,560 ft. above sea level) After crossing the Urubamba river on a picturesque foot bridge, you will show your passport at the checkpoint and visit your first Inca site nearby. The first hour and a half are a gentle up, with several shelters along the way to pause for a bit out of the sun or rain, depending on the season. Along the way, you will stop at several outlooks where you have an expansive view of the Urubamba River. You will also pass through several microclimates, including cloud forest, so be ready for damp or even rain at any time of the year. The next hour and a half are a slightly steeper uphill, with a beautiful waterfall as your reward at the end of the hike!
Cross the bridge below the waterfall, take some time for photos and then you will find yourself gazing up at the spectacular Wiñay Wayna! (2,600m/8,500ft above sea level) These amazing Inca ruins have a fascinating history and some parts are still hidden by the dense jungle. This close to Machu Picchu, you are hiking through lush sub-tropical jungle. Your guide will tell you all about the ruins, plus the incredible flora and fauna of this microclimate and answer any questions you have before the short 5 minute walk to your lunch spot.
You will enjoy your lunch at a covered shelter at the Wiñay Wayna campground, which is the last campground for those hiking the four day Inca Trail. Nearby are outdoor sinks to wash your hands and also restrooms. Take your time enjoying your hearty, gourmet lunch and admiring the tropical flowers around the campground. Be sure to notify us of any food allergies or dietary restrictions when you book!
After lunch, you will have a mostly flat walk to the Sun Gate, from which you have your first view of Machu Picchu! Though the hour long walk is a gentle rolling up and down, it does end with a set of steep stairs carved directly into the bedrock by the Inca. Once you reach the stairs you will know that you're almost at the Sun Gate! It is a breathtaking view of Machu Picchu, so take some time to savor the moment and take photos. The last 45 minutes down from the Sun Gate provide many opportunities to take more photos of Machu Picchu from this unique vantage point. There are also a couple more important Inca sites between the Sun Gate and Machu Picchu, so make sure to go slowly, enjoy your time walking in the footsteps of the Inca on the Inca Trail and ask your guide questions about these historical places on the last bit of your hike to Machu Picchu.
Once you reach Machu Picchu, you will have time to take more photos from the viewing platforms above the site. You will arrive in the afternoon, as the archeological area starts to empty of tourists, which gives you the opportunity to take beautiful photos in the afternoon light with fewer people in your shots. Your guide will give you the full tour, which takes about two hours. You will see all of the most important parts of Machu Picchu, including the Temple of the Sun, Temple of the Condor, Temple of Three Windows, Sun Dial, Quarry and the House of the Inca. You will also learn about how Machu Picchu is divided into three sectors: agricultural, residential and religious.
Take your time to enjoy this magical experience before you take the bus down to Aguas Calientes. In the evening (6:20pm) you will take the return Expedition train to Ollantaytambo and catch our private van to Cusco and your hotel.  You will arrive around 10:00 pm.
Meals included: Breakfast at your hotel and picnic lunch
Difficulty: Moderate to difficult

WHAT IS INCLUDED
Sacred Valley Tour
Entrances to the Inca cities and archeological sites
Inca Trail permit
Professional guide, fluent in English
Expedition train from Ollantaytambo to KM 104 and from Aguas Calientes to Ollantaytambo.
One nights hotel accommodation with private room, bathroom and breakfast included.
Meals a indicated on the itinerary
Bus tickets from Machu Picchu down to Aguas Calientes
Personal assistance
WHAT IS NOT INCLUDED
Hotel – optional upgrades
Upgrade to Vistadome: $67 USD per person – return train in the afternoon at 6:20pm to Ollantaytambo only.
It is not possible to hike Huayna Picchu or Machu Picchu Mountain due to time constraints.
Tips for your guide
ADDED VALUES FOR FREE
Transfer from the airport to hotel: (Cusco Hotel only).
SMALL GROUPS: up to 8 hikers
EARLY TRAIN: for the return to Cusco from Aguas Caliente
Rain poncho
PRICES:
$527 USD per person without hotel
$567 USD per person with 1 night 2* hotel
***Private service is available for $100 USD more per person.
***All entrance fees are included and we operate our tours in small groups averaging 5 people with a maximum of 8!  
DISCOUNTS
18 to 25 years old: $30 USD. Information required on student card: name of university, student name, photo of student, expiration date etc. A copy of the card is required at booking for government approval for discount.
Under 18 years old: $30 USD. Please send us a copy of your passport at the time of booking.
Under 11 years old: $40 USD.  Please send us a copy of your passport at the time of booking.
EXTRAS 
Upgrade to Vista Dome Train: $67 USD. (Aguas Calientes to Poroy/Cusco at 4:43pm)
Hotel single supplement: $30 USD (for solo travelers)
WHY CHOOSE SAM TRAVEL? 
SAM Travel Peru is a family owned travel agency and a local tour operator based in Cusco with personal experience over many years of trekking. SAM Travel Peru is a 100% Cusqueñian Company without any shareholders.
 Our dream as a locally based company is to create small personalized tours & treks strictly and only operated by local professional staff catering in PERSONALIZED and HIGH QUALITY SERVICE.  
We take pride in our reputation as a RESPONSIBLE & SUSTAINABLE tour operator. Our staff are our extended family. We ensure they are supported financially by offering them a fair salary. We are so proud of our team! Without them, we wouldn't be able to offer the best service and lifetime experiences to our clients.
SAM Travel Peru knows how important it is to trust in a reliable honest operator to create your adventure of a lifetime while in Peru. Check out our reviews and certificates of excellence on, TRIPADVISOR for yourself! Also we are highly recommended on Conde Nast Travelers,  Lonely Planet and by many blogs like: Salkantay/Inka Trail ! July 14th to 20th 2016  Trek de Lares 4 hours, "It's the journey, not the destination…", Lares Pass – Day 3, Trekking in the Sacred Valley.
SMALL GROUPS
To ensure a more personalized service for our guests, at SAM Travel Peru we have a policy that our groups will not exceed 8 people. This fact alone sets us apart from other companies that operate departures with bigger groups.
OUR TOP TOUR GUIDES
We are so proud of our guides! They are highly professional and speak fluent English. They are very knowledgeable and passionate for Inca heritage and history.  Our guides are dedicated to continuous personal and professional development. They do research to ensure that you receive accurate and recognized theories in Inca and Andean culture. Our crew is fun loving, great sports and well-educated. They all hold degrees in one of the following: Archeology, Tourism, Botany, History or Anthropology.
OUR SERVICE PROJECTS
SAM Travel Peru has always believed that we should give back to the communities we pass through on our treks. Therefore, as part of our commitment in responsible tourism, we socially support and employee from these communities.
SAM Travel Peru is proud to be able to support these beautiful people, not only in hiring them for work but to bring things back to grassroots, to share  in their home and families. This makes us  happy to have a holistic approach with our highland employees and their families!
A beautiful reflection of our attitude in everything we do, is that we wish to make life richer and more meaningful for all involved.
Please read carefully the following information. It will help you answer all of your questions about our services and Sacred Valley & 1 Day Inca Trail. 
WELCOME TO CUSCO
You will be welcomed at Cusco airport and taken to your hotel, please ensure that you inform us of your full flight details at least 14 days prior to arrival. Look out for our representative holding an orange SAM Travel Peru board at the exit from the arrival terminal. It can be done on any date that is best suited to you!
THE BRIEFING
Your briefing will take place the night before your trek. It will be held at our office at 6 or 6:30pm, depending on your confirmation email details.  The office is located at Calle Santa Teresa  Nº383 ; office 107 (second floor). We are next to Subway sandwich shop and share a lobby with Hotel Casona Corrales.
CAN I STORE MY LUGGAGE AT YOUR OFFICE?
Of course! During the  tour your main luggage can be store at our office or at your hotel, whichever is more convenient for you. Please don't  pack anything you will need for your hike.
HOW TO BOOK THE  TOUR?
FIRST, to book your Moray, Salt Mine & Machu Picchu Trip, we need you to fill out our booking form by clicking on BOOK NOW on our homepage or click here the link BOOK NOW.
Please be ready with the following information (FROM EACH PARTICIPANT in your group).  We cannot purchase an an entrance to Machu Picchu or the train without the following information:
Personal information (your full name, exactly as on your passport):
Gender
Passport number
D.OB. (dd / mm / yyyy)
Nationality
SECOND, we require a deposit of US$211.00 per person in order to purchase a your entrance to Machu Picchu and train ticket.  You can make you deposit by clicking on the VISA or PAYPAL symbols on the top of our home page, or you can click on the VISA or PAYPAL symbols on our booking page or click here on the payment method of your choice, either VISA or PAYPAL.
WHAT ABOUT THE BALANCE?
If you would like to avoid the high credit card fees in Peru, you may pay in cash at our office (US dollars or Peruvian soles) here in Cusco. There are many ATMS within the historical center to withdraw money. You can also pay by VISA or PAYPAL online but you will have to pay a 5.5% service fee, charged by VISA and PAYPAL.  To pay your balance through PAYPAL, you need to log into your PAYPAL account and use our email address samtravelperu@gmail.com. 
HOW DO I QUALIFY FOR THE STUDENT DISCOUNT?
According to Peruvian Law, you must be under 18 years of age at the time of your trek or tour to Machu Picchu (students 18 & above need student cards). For example: if you book a trek at the age of 17 but you turn 18 before you do your trek, you must have a valid university ID card to qualify for the student discount.
University students must provide a copy of their ID card showing a photo, University name and card expiration date. Cards must be valid for the current academic year only.
All students from 11 to 17 years, the discount is $30 USD.
For children from the age of 2 to 11 the discount is $40 USD.
Children from the age of 0 to 2 are free.
All students must provide a copy of their passport at the time of their booking to get the student discount. Send us a copy at info@samtravelperu.com
MAY I CHANGE THE DEPARTURE DATE AFTER THE TICKETS HAVE BEEN BOUGHT?
Unfortunately the answer is no. Once the tickets have been bought the government does not allow any changes, so we can't change any departure date after the tickets has been bought. Tickets are also not transferable nor refundable.
*** If you cancel your Sacred Valley & Short Inca Trail, the deposit is not refundable at all!
DO I NEED MY ORIGINAL PASSPORT?
Yes for sure! You have to bring your original passport and it is very important that it is the same passport number you sent to us to book your entrance to Machu Picchu, train ticket, other entrances and reservations. The rangers will check when you enter Machu Picchu. The train company will also check your passport before allowing you to board the train.
In case you are renewing your passport or changing your name, go ahead and send us your old passport information to secure your permit, and we can change it when you get your new passport number or updated your name for a fee of $25 per person.  We must have a copy of your old and new passport to make the change. Before you change your passport keep a copy of your old one.
If you do not wish to pay this fee you will need to bring both passports to Peru with you.  You can enter Peru with your new passport but you will need to show both passports, old and new to be to enter into Machu Picchu or the train.  If you do not have both you will not be allowed to enter into Machu Picchu or get on the train. They are very strict about this here!!
ARE WE DROPPED AT OUR HOTEL?
Absolutely! Included in our packages is dropping you off at your hotel on the return from your trek or tour. If you have booked your hotel in the Sacred Valley like Ollantaytambo or Urubamba, we will drop you there too!
If you spend the night at Ollantaytambo before the trek, we will pick you up there.
TIPPING
If you're happy with the services provided, a tip – though not compulsory – is appreciated. While it may not be customary in your country, it's of great significance for the people who will take care of you during the tour.  It inspires excellent service and is an entrenched feature of the tourism industry across many SAM Travel Peru destinations. Of course you are free to tip as much as you feel appropriate, depending on your perception of the quality and the length of your tour. Remember, a tip is not compulsory and should only be given when you receive excellent service.
ARE YOU SUSTAINABLE?
Yes, we are a local sustainable & responsible tourism operator for that we incorporate the universal principles of tourism: protect the environment and benefit the local communities respecting their culture and religion. With this in mind, we have trained all our staff to know, understand and respect the local places and its people.
The 1 Inca Trail Machu Picchu DOES NOT INCLUDE the extra porter, so, you will need to carry all your things, please try to pack as light as possible which is the key to enjoy this amazing trek
WHAT YOU SHOULD BRING FOR SACRED VALLEY & 1 DAY INCA TRAIL
Original Passport (it has to be the same you have used for booking your trek)
Good daypack (the smaller, the better)
Water bottle: 2 liters in reusable bottles (please do not bring disposable bottles)
Comfortable hiking boots with ankle support
Toilet paper
Jacket
Dress in layers
Hand sanitizer
Wet wipes
Personal medications
Sun hat
Sunscreen
Insect repellent
Wool hat only in the cold season
Rain gear if rainy season
Snacks like chocolate bars, cereal bars or any dry fruits
Rain plastic poncho (provided by SAM)
Camera
Extra money for souvenirs, drinks & tips