READ THE MOST DETAILED INFORMATON ABOUT THE TREK!
Day 1: Cusco – Huaran – Cancha Cancha
Your Andean Mountain adventure through the Lares Valley to Machu Picchu begins early with your pickup at 6:00am from your Cusco hotel. Then we will drive to Huaran where will start our hike. We will meet your horsemen and horses. Time to get ready, boots on, and begin our first 3 hours gradually ascending towards Cancha Cancha. Along the way, your lunch will be served next to the river, replenishing your energy for the trek ahead with a delicious meal prepared by your trekking chef.
Cancha Cancha (3,900m/12,800ft) is one of the most isolated and traditional communities, self-sustaining as it has been for hundreds of years. There is no road to the community and they were recently connected to electricity in December, 2019. After settling into your tents and having afternoon tea, you will have the opportunity to visit a local family. You will learn all about life in a traditional Andean village, with your guide as your interpreter. After dinner, your guide will show you the Inca constellations on which they depended for their agricultural guidance and still do to this day.
Meals included: Lunch – Afternoon Tea Time – Dinner
Accommodation: Camping facilities with bathroom building
Distance: 9kms / 5.6 miles
Time: 3.5hrs approximately
Difficulty: Moderate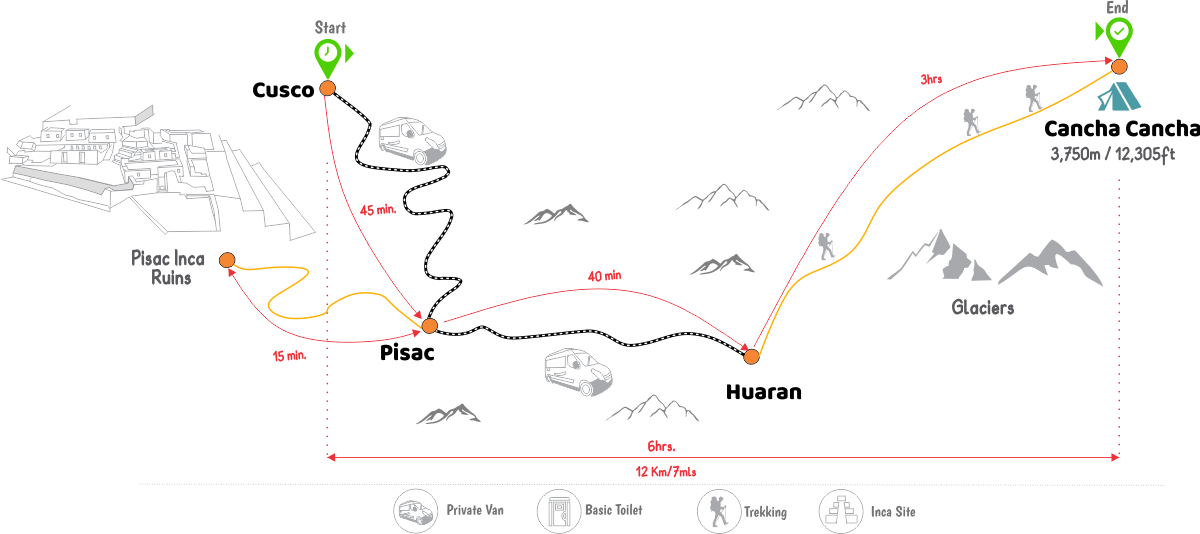 Day 2: Cancha Cancha – Quiswarani
Your guide will wake you with a hot mug of tea or coffee to enjoy in your sleeping bag before you get up for breakfast. Feeling all revved up to begin our second day, after another delicious breakfast, we begin our 7 hour hike northeast. It starts out as an intense walk, accomplishing high passes on our way to the highest point of our trek at Pachacutec Pass(4,500m /14,800 ft). This is where you pat yourself on the back and embrace the satisfaction and exhilaration for making it up to the summit. Motivating you along the trail for this intense part of the trek are the views of glaciers, remote lakes, alpaca herds, rugged valleys and spectacular mountain vistas. Keep your eyes on the sky for the Caracara falcons and Andean geese!
After enjoying the summit, we descend for 3 hours until we reach our campsite located by the Quiswarani community, (3,700m/12,139ft). On the way, we will be taking an isolated trail where we will see indigenous highland people in their traditional outfits herding their llamas and alpacas. The local indigenous people will open their hearts and interact with you in the Quechua language (the Incas' language). Your guide will act as your interpreter to translate and teach you some Quechua language. When you arrive at the spectacular seven waterfalls, you are almost to the campsite!
At the campsite, everything will be ready. Enjoy hot drinks and appetizers before dinner, then snuggle in for a comfortable night sleep.
Meals included: Breakfast – Lunch – Afternoon Tea Time – Dinner
Accommodation: Camping facilities with bathroom building
Distance: 12kms / 7.5 miles
Time: 7hrs approximately
Difficulty: challenging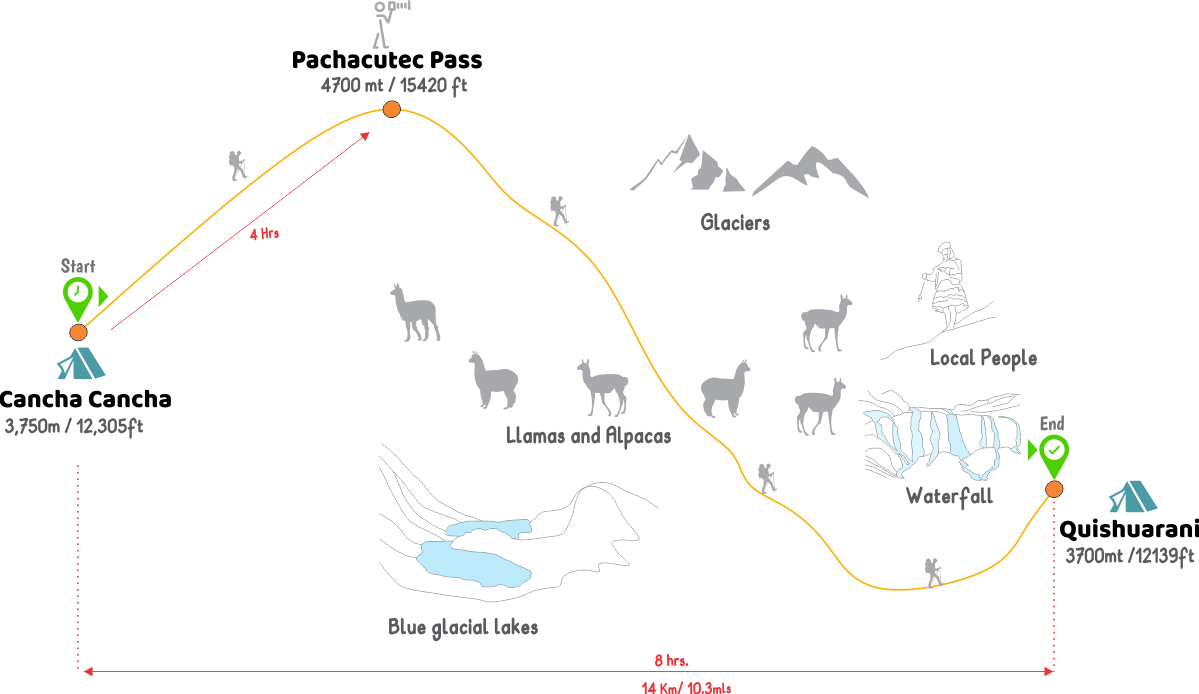 Day 3: Quiswarani – Cuncani – Lares – Ollantaytambo 
Your adventure continues as you begin the most scenic day yet!  We begin our ascent for 3 hours until we reach the Willqaqasa Pass, (4,200m/13,779ft) getting a bird's eye view of the reflections of the mountains in mirror images in the glacial lakes. The majestic Colquecruz and Pitusiray Mountains are awe inspiring to admire from the pass. We continue our trek through the Puna grasslands, undulating and productive agricultural sites and natural pristine lakes. Time to descend for 2 hours to the Cucani community. Connecting with the local indigenous children, you may have the opportunity to visit their school and share in some quality time with the students.
From Cuncani we meet our driver and ride down through a lush valley with extensive agricultural areas, fruit bearing trees, varied flora, and native flowers like begonias and wild orchids. Finally, we reach our destination, the Lares Hot Springs (3,100m/ 10,170ft), where we cannot wait to soak in the natural volcanic hot springs for an hour, have lunch and relax. Time for our goodbyes for our remarkable chef and horsemen. 
After lunch in Lares, we take our private transport to 2.5 hours Ollantaytambo, where we have dinner together and spend the night in our hotel.
Meals included: Breakfast – Lunch – Afternoon Tea – Dinner
2* Accommodation: Veronica View Hotel 
3* Accommodation: El Alberge or Pakaritampu
Distance: 15kms / 9.3 miles
Time: 6 hrs approximately
Difficulty: Moderate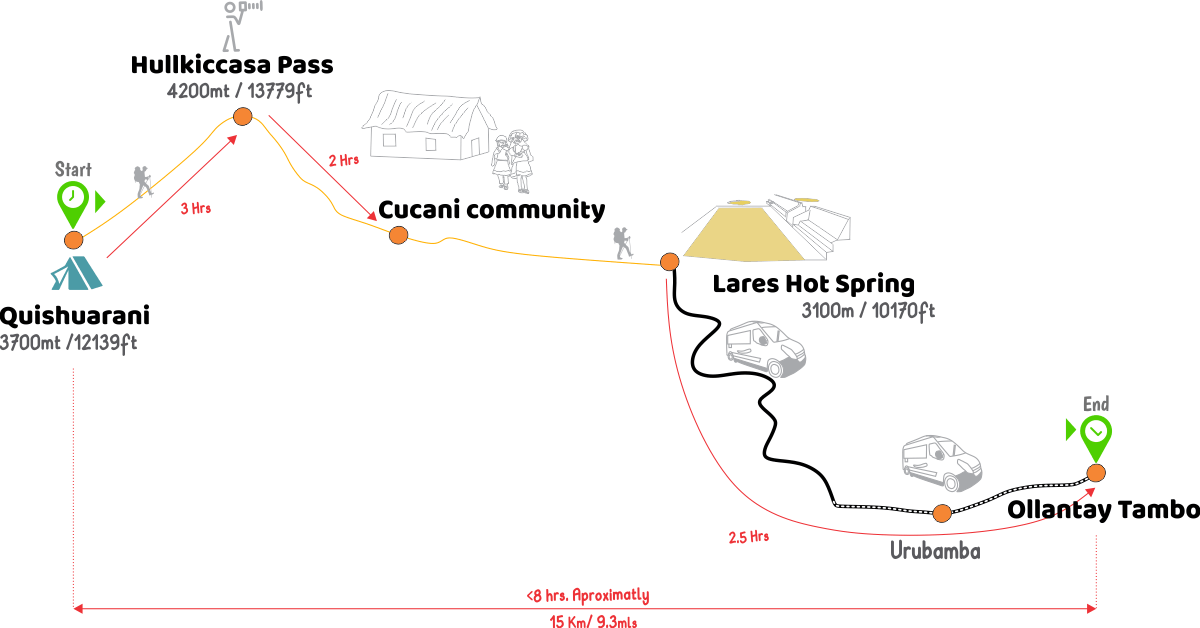 Day 4: Ollantaytambo – KM104 – Wiñay wayna – Machu Picchu – Aguas Calientes
We start this exciting day early; your guide will leave the hotel with you at 5:30am. When you arrive at the train station, your guide will give you your lunch to add to your daypack. Your train departs Ollantaytambo at 6:10am and you will have just over an hour on the train to enjoy the scenery and have breakfast (not included). Your hotel can provide you a picnic breakfast to take with you or you can pack your own breakfast.
You get off the train at the famous Km104, where your trek begins! (2,000m/6,560 ft. above sea level). After crossing the Urubamba River on a picturesque foot bridge, you will show your passport at the checkpoint and visit your first Inca site nearby. The first hour and a half are a gentle upward climb. Along the way, you will stop at several outlooks where you have an expansive view of the Urubamba River. You also pass through several microclimates, including cloud forest, so be ready for damp or even rain at any season of the year. The next hour and a half are a slightly steeper uphill with a beautiful waterfall as your reward at the end of the hike!
When you cross the bridge below the waterfall, be sure to take some time for photos and as you do you will find yourself gazing up at the spectacular Wiñay Wayna! (2,600m/8,500ft above sea level) These amazing Inca ruins have a fascinating history and some parts are still hidden by the dense jungle. This close to Machu Picchu, you are hiking through lush sub-tropical jungle. Your guide will tell you all about the ruins, plus the incredible flora and fauna of this microclimate and answer any questions you have before the short 5-minute walk to your lunch spot.
You have lunch at a covered shelter at the Wiñay Wayna campground, which is the last campground for those hiking the Classic Inca Trail. Nearby are outdoor sinks to wash your hands and also restrooms. Take your time enjoying your hearty, gourmet lunch and admiring the tropical flowers around the campground. Be sure to notify us of any food allergies or dietary restrictions when you book!
After lunch, you have a mostly flat walk to the Sun Gate, from which you have your first view of Machu Picchu! Though the hour-long walk is a gentle rolling up and down, it does end with a set of steep stairs carved directly into the bedrock by the Inca. Once you reach the stairs you will know that you're almost at the Sun Gate! As you turn the corner from the Sun Gate, you will enjoy your first breathtaking view of Machu Picchu. So, take some time to savor the moment and take photos. The last 60 minutes down from the Sun Gate provide many opportunities to take more photos of Machu Picchu from this unique vantage point. There are also a couple more important Inca sites between the Sun Gate and Machu Picchu, so make sure to go slowly, enjoy your time walking in the footsteps of the Inca on the Inca Trail and ask your guide questions about these historical places on the last bit of your hike to Machu Picchu.
Once you reach Machu Picchu, you will have time to take more photos from the viewing platforms, "House of the Guardians"where you can take the famous postcard pictures of Machu Picchu above the site. You will arrive in the afternoon, as the archeological area starts to empty of tourists, which gives you the opportunity to take beautiful photos in the afternoon light with fewer people in your shots. Take your time to enjoy this magical experience before you take the bus down to Aguas Calientes to check into your hotel. Your will have a delicious dinner, then have time to walk around this picturesque little town, visit the hot springs or just go to your hotel to rest after such an exciting day.
Meals included: Breakfast, lunch, dinner in a restaurant in Aguas Calientes
Distance: 12 kms/7.5 miles
Time: 6hrs approximately
3* Accommodations: Ferre´ Hotel Machu Picch
Difficulty: moderate
You will leave your duffel from the trek at the Ollantaytambo train station to be sent by train directly to Aguas Calientes.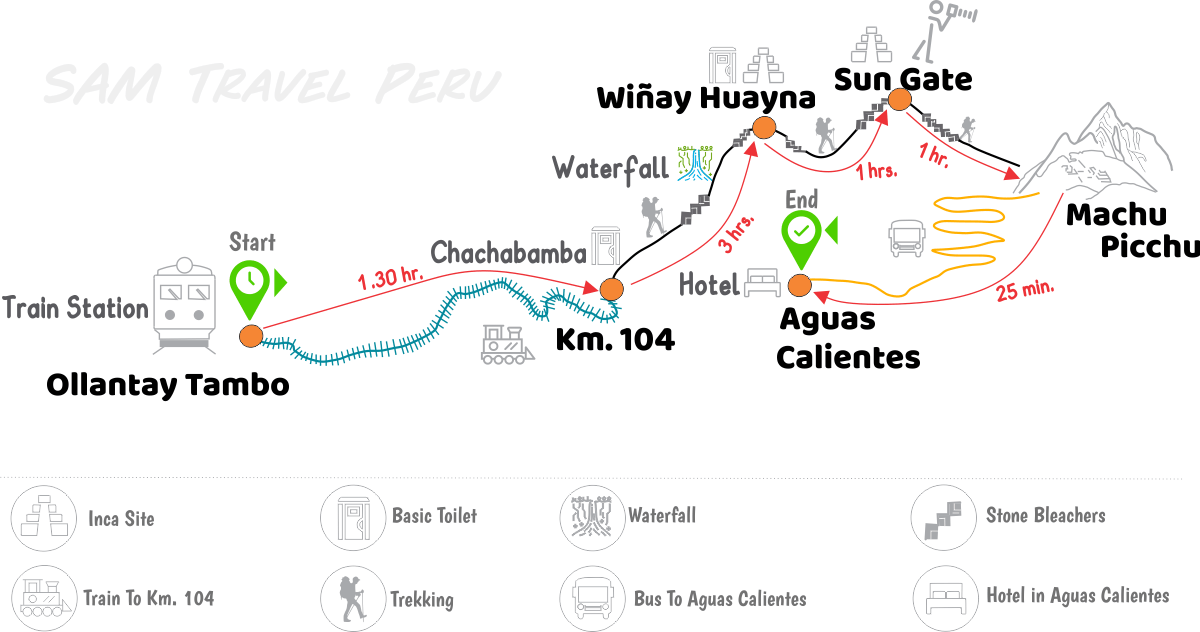 Day 5: Aguas Calientes – Machu Picchu – Cusco
This is the day you've been waiting for! After an early breakfast at your hotel, you'll take one of the first buses up to Machu Picchu so that you can be there to witness the sunrise. It is a truly extraordinary site and not something you'll want to miss! Your guide will give you a guided tour of Machu Picchu, which takes about two hours. You will see many of the most important parts of Machu Picchu Citadel. 
After your tour, those who have booked in advance for the extra hikes up Huayna Picchu Mountain will have time to enjoy those views on their own. When you have had your fill of the exceptional views of Machu Picchu, you will take the bus back down to Aguas Calientes for lunch (not included). Depending on your train departure time, you may also have time for some shopping, sightseeing or a visit to the museum or hot springs. 
The Expedition train will take you back to Ollantaytambo at 2:55pm or 3:20pm, following the spectacular Urubamba River. Close to Aguas Calientes, the canyon is narrow and the river has many beautiful sections of whitewater. You can also see Wiñay Wayna from the train, if you look up high on the steep canyon wall! Back at Ollantaytambo, your driver will meet you at the exit from the train station to take you back to your hotel in Cusco in our private vehicle. You can expect to arrive at your hotel by 7:00pm.
Meal included: Breakfast
Difficulty: Easy
***IMPORTANT:
 On the 2 day Inca Trail, we will be doing the circuit #3 and there is no way to do another circuit unless you buy an additional entrance to Machu Picchu.
You can upgrade to the Vistadome Train for the same times, 2:55pm or 3:20pm, 4:22pm, or 4:43pm. The cost is $67 USD.
Early trains can be organized by requested and it has to be done by booking time.
The Huayna Picchu Mountain Hike 

depends on availability and let us know about it at booking time.

WHAT IS INCLUDED
Transfer from the airport to your hotel
Private transportation from the hotel to the Huaran trailhead
Licensed guide fluent in English, Spanish and Quechua
Round trip train ticket from Ollantaytambo to Aguas Calientes
2 Bus tickets from Aguas Calientes to Machu Picchu and return to Aguas Calientes
Admission ticket to the Machu Picchu Archeological Complex
Entrance tickets to the Inca Trail national park
2 nights hotel with private bathroom, hot shower, wifi, storage and buffet breakfast included ((This applies ONLY if you are choosen the price which includes hotels)
4 person Igloo tents (4 person tent for only 2 people)
Camping pillow and foam mattress
Delicious meals during the 4 days as indicated in the itinerary
Cook and cooking equipment
Horseman and mules, to carry all camping and personal equipment (7 kilograms of your personal items such as extra clothes, sleeping bag, these will be carried by our mules) (on Lares Trek portion only)
Provision of a horse in case of emergency (with helmet) in case of illness, to ensure the trek can be completed by all participants (only on the Lares portion of the trek)
First-aid kit including emergency oxygen tank
Boiled water to fill your drinking bottles
Guided tour in Machu Picchu
Chef, cooking equipment and kitchen tent
Transfer back to Cusco for our group
Local interaction with the local kids and the community.
WHAT IS NOT INCLUDED
Sleeping Bag: $20 USD per person per trek (It will be clean and warm)
Air Mattress: $20 USD per person per trek (Therm-a-rest mattresses)
Walking Poles: $15 USD per pair per trek (Professional Poles that can be extended)
Personal tent: $30 USD – (Please request when you book your Trek)
Vistadome Train Upgrade: $67 USD per person (Return Only)
Huayna Picchu Mountain : $75 USD per person (Please request when you book your Trek)
OPTIONAL UPGRADES: Hotel
Tips for the crew, guide, cook and porters of SAM TRAVEL PERU
**Huayna Picchu Mountain is optional trek within Machu Picchu Citadel which do not include a guide. The climb is usually done on your own after your tour of Machu Picchu Citadel. If you would like the extra hike to be guided, please request in advance. There is an extra cost for this extra guided tour. 
BEST PRICE FOR THE LARES TEK + SHORT INCA TRAIL
Only $827 per person with 3* hotels
Only $757 USD per person with 2* hotels
Only $697 USD without hotels
***We provide large Eureka 4 person tents for each 2 trekkers.  
***Private price is $150 USD extra per person. 
DISCOUNTS:
18 to 25 years old: $30 USD. Information required on student card: name of university, student name, photo of student, expiration date etc. A copy of the card is required at booking for government approval for discount.
Under 18 years old: $30 USD. Please send us a copy of your passport at the time of booking.
Under 11 years old: $40 USD.  Please send us a copy of your passport at the time of booking.
Group of 5 people or more: $30 USD. All you need to do is book the trek together at the same time.
*** The Short Inca trail to Machu Picchu is almost always available year round as long as tickets are available except when it is closed in February for maintenance.  
EXTRAS 
Sleeping Bag: $20 USD per person per trek (It will be clean and warm)
Air Mattress: $20 USD per person per trek (Therm-a-rest mattresses)
Walking Poles: $15 USD per pair per trek (Professional Poles that can be extended)
Personal Tent: $30 USD – (Tent is for single trekkers only)
Additional Night in Aguas Calientes – From:$60 USD(depending on availability)
Vistadome Train Upgrade: $67 USD per person (Return Only)
Huayna Picchu Mountain  : $75 USD per person (Please request when you book your Trek)
Single Supplement: $40 USD 3* for single travelers
**Huayna Picchu Mountain is optional trek within Machu Picchu Citadel which do not include a guide. The climb is usually done on your own after your tour of Machu Picchu Citadel. If you would like the extra hike to be guided, please request in advance. There is an extra cost for this extra guided tour. 
ADDED VALUES  FOR FREE
Comfortable foam mattresses for every hiker, camping pillow, transfer airport to hotel (only in Cusco), duffel bags, plastic liner bags, and extra blanket for the tent are included in the trekking price!
EXTRA PACK HORSE is included in the price, the porter will carry your things up to 7 kgs / 14lbs  sleeping bag, mattress, clothes etc. (Lares Trek portion only)
COLD BOILED WATER will be provided along the trek. There will be hot and cold water at each meal time.
OXYGEN TANK will be available
EMERGENCY HORSE is included which can be ridden if you feel tired or sick. (Lares Trek portion only)
BEST ITINERARY operated by Lares Trek specialist only
WHY CHOOSE SAM TRAVEL?
SAM Travel Peru is a family owned travel agency and a local tour operator based in Cusco with personal experience over many years of trekking. SAM Travel Peru is a 100% Cusqueñian Company without any shareholders.
 Our vision as a locally based company is to create small personalized tours & treks strictly and only operated by local professional staff catering in PERSONALIZED and HIGH QUALITY SERVICE.  
We take pride in our reputation as a RESPONSIBLE & SUSTAINABLE tour operator. Our staff are our extended family. We ensure they are supported financially by offering them a fair salary. We are so proud of our team! Without them, we wouldn't be able to offer the best service and lifetime experiences to our clients.
SAM Travel Peru knows how important it is to trust in a reliable honest operator to create your adventure of a lifetime while in Peru. Check out our reviews and certificates of excellence on, TRIPADVISOR for yourself! Also we are highly recommended on Conde Nast Travelers,  Lonely Planet and by many blogs like: Salkantay/Inka Trail ! July 14th to 20th 2016  Trek de Lares 4 hours, "It's the journey, not the destination…", Lares Pass – Day 3, Trekking in the Sacred Valley.
SMALL GROUPS
To ensure a more personalized service for our guests, at SAM Travel Peru we have a policy that our groups will not exceed 8 people. This fact alone sets us apart from other companies that operate departures with bigger groups.
BEST LARES TREK ROUTE + SHORT INCA TRAIL 
SAM Travel Peru is the only tour operator which TREKS OFF THE BEATEN PATH with the LARES TREK MACHU PICCHU, passing through the most isolated communities, ending at the hot springs. Now you get the best combination possible, our incredible LARES TREK PLUS SHORT INCA TRAIL.  It is the best of both worlds and NO ONE HAS A BETTER DEAL than SAM Travel Peru for this combination trek.
OUR  TREKKING GUIDES
We are so proud of our guides! They are highly professional and speak fluent English. They are very knowledgeable and passionate for Inca heritage and history.  Our guides are dedicated to continuous personal and professional development. They do research to ensure that you receive accurate and recognized theories in Inca and Andean culture. Our crew is fun loving, great sports and well-educated. They all hold degrees in one of the following: Archeology, Tourism, Botany, History or Anthropology.
OUR PACK HORSES
Trekking the Lares with Short Inca Trail with SAM Travel Peru  is a life changing experience with a fully portered trek, where your comfort and enjoyment are our first priority. We make sure that you get the best experience for your holiday in Peru, while you interact with the locals, explore fantastic sites and re-discover remote ancient Inca towns. Our pack horses will carry your gear and are well cared for.
OUR COOKS ON THE LARES TREK 
The food on the trek has been highlighted by all our clients as delicious and abundant gourmet style meals. Peruvian and international cuisine are prepared by our professional and dedicated cooks from a mixture of local and exotic produce. If you have any dietary restrictions or have food allergies of any kind, we can cater to your needs.
OUR EQUIPMENT
Our team (Guides, cooks, and horsemen) and our equipment are what really makes SAM Travel Peru stand out from all the competitors. For all our adventures we hike we include the following items:
OUR TENTS: Enjoy a good night's sleep in our 4 season EUREKA Timberline tents. All our tents are 4 person tents, but ONLY sleep 2, leaving lots of room to spread out comfortably and store your duffel bags. They also include a little vestibule in front, giving you some extra outdoor space to leave your boots and walking sticks so you don't have to bring in dirt.
OUR MATS: They are used to separate and insulate you from the ground. They all are comfortable.
AIR MATTRESSES: They can be rented for $15 USD.
OUR KITCHEN & DINING TENTS: The dining tent is used as our meeting room at meal time. It's a place to enjoy our meals and the company of fellow trekkers.
OUR TABLES & CHAIRS: The interior of the dining room includes tables and chairs with two doors on each side, which are adaptable to weather conditions.
DUFFEL BAGS: Will be provided at briefing time the night before the trek.
MORE: Pillows, backpack rain covers, survivor t-shirts, hot shower and the biochemical camping toilet are provided on trek.
OUR SERVICE PROJECTS
At SAM Travel Peru, we have always believed that we should give back to the local isolated communities.  Therefore, as part of our commitment to responsible tourism, we always do many service projects and hire locally.
SAM Travel Peru  is so proud to be able to support these people, not only employing them but go back to our grassroots as they share with their families. It makes us happy to have this holistic approach with our highland employees and their families!
Please read carefully the following information. Ut will help with your questions about our services and the trek to Machu Picchu..
THE BRIEFING
The briefing will take place the night before the trek at 6pm in our office, which is located at Calle Garcilaso 210, office 213 (second floor) in the La CASA DEL ABUELO shopping center.
CAN I STORE MY LUGGAGE AT YOUR OFFICE?
Of course! During the Lares trek Machu Picchu your main luggage can be stored at our office or at your hotel, whichever is more convenient for you.
HOW TO BOOK THE LARES TREK + SHORT INCA TRAIL 
FIRST, to book your Lares Trek + Short Inca Trail, we need you to fill out our booking form by clicking on BOOK NOW on our homepage or click here the link BOOK NOW.
Please be ready with the following information (FROM EACH PARTICIPANT in your group).  We cannot purchase an Lares Trek + Short Inca Trail permits and entrances without the following information:
Personal information (your full name, exactly as on your passport):
Gender
Passport number
D.OB. (dd / mm / yyyy)
Nationality
SECOND, we require a deposit of $211.00 USD per person in order to purchase a permit for the Lares Trek + Short Inca Trail.  You can make you deposit by clicking on the VISA or PAYPAL symbols on the top of our home page, or you can click on the VISA or PAYPAL symbols on our booking page.
WHAT ABOUT THE BALANCE?
If you would like to avoid the high credit card fees in Peru, you may pay in cash at our office (US dollars or Peruvian soles) here in Cusco. There are many ATMS within the historical center to withdraw money. You can also pay by VISA or PAYPAL online but you will have to pay a 5.5% service fee, charged by VISA and PAYPAL.  To pay your balance through PAYPAL, you need to log into your PAYPAL account and use our email address samtravelperu@gmail.com. 
HOW DO I QUALIFY FOR THE STUDENT DISCOUNT?
According to Peruvian Law, you must be under 18 years of age at the time of your trek or tour to Machu Picchu (students 18 & above need student cards). For example: if you book a trek at the age of 17 but you turn 18 before you do your trek, you must have a valid university ID card to qualify for the student discount.
University students must provide a copy of their ID card showing a photo, University name and card expiration date. Cards must be valid for the current academic year only.
All students from 11 to 17 years, the discount is $30 USD.
For children from the age of 2 to 11 the discount is $40 USD.
Children from the age of 0 to 2 are free.
All students must provide a copy of their passport at the time of their booking to get the student discount. Send us a copy at info@samtravelperu.com
MAY I CHANGE THE DEPARTURE DATE AFTER THE TICKETS HAVE BEEN BOUGHT?
Unfortunately the answer is No. Once the tickets for the Inca Trail have been bought the government does not allow any changes, so we can't change any departure dates. Permits and entrance tickets are not transferable nor refundable.  If you cancel your Lares Trek + Short Inca Trail , the deposit is not refundable at all!
DO I NEED MY ORIGINAL PASSPORT?
Yes! You have to bring your original passport and it is very important that it is the same passport number you sent to us to book your Lares Trek + Short Inca Trail, permit, entrances and reservations.  In case you are renewing your passport or changing your name, go ahead and send us your old passport information to secure your permit, and we can change it when you get your new passport number or updated your name for a fee of $25 USD per person.  We must have a copy of your old and new passport to make the change. Before you change your passport keep a copy of your old one.
If you do not wish to pay this fee you will need to bring both passports to Peru with you.  You can enter Peru with your new passport but you will need to show both passports, old and new to be to enter the Inca Trail, Machu Picchu or the train.  If you do not have both you will not be allowed to enter the Inca Trail, Machu Picchu or get on the train.
WHAT IS THE WEATHER LIKE ON THE LARES TREK MACHU PICCHU?
The weather is very unpredictable and it's difficult to foresee. We recommend that you plan to always dress in layers to facilitate adjusting to the quickly changing weather conditions.
WHAT ABOUT ALTITUDE SICKNESS?
In general, if you exercise regularly and spend a couple of days in Cusco or the Sacred Valley, you will be able to acclimate normally. It usually take between 24 hours to 2 days.
The recommended remedies for altitude sickness is WATER, COCA TEA and OXYGEN IF NEEDED; our guides are trained to treat you  for Altitude Sickness. For more detailed information on Altitude Sickness click this link: Altitude Sickness.
HOW MANY PEOPLE ARE THERE PER GROUP?
The maximum group size is 8 persons. Our groups are usually between 2-6 persons. Sam Travel Peru specialises in SMALL, PRIVATE groups and provide a personalized service.
HOW MANY COOKS/PACK HORSES FOR THE GROUP?
You will have 1 cook per group. The number of pack horses depends of the size of the group. For a group of 2 trekkers, they will have 4 horses, 4 trekkers will have 6 horses, 6 trekkers will have 9 horses, 8 trekkers will have 12 horses.
HIKING TO LARES TREK 
The evening before you start your trek, you will be given a SMALL DUFFEL BAG to pack your clothes for the next four days. Your weight allowance is up to 7kg/14lbs. Your team of porters will carry your duffel bag for you, together with the food and camping gear. It's important to be aware that you will not have access to your items in the duffel bag until the end of each day, as the pack horses will always be ahead of the group. During the trek, you need a day backpack big enough to carry your personal belongings such as a warm jacket, a rain jacket, your camera, sunscreen, snacks, water, etc.  A 30 to 50L backpack is sufficient.
IS THE TREK DIFFICULT, DO I NEED TO BE FIT?
The Lares trek + Short Inca Trail is a 39 km hike through the Andes in the Cusco region. The maximum altitude reached is (4,700m/15,419ft).  The trail is a fairly difficult trek and you should be well prepared and healthy prior to starting it. You have to be moderately fit and take regular exercise.
In preparation: try walking 15kms  a day or go to the fitness club in the months leading up to the trek. It is also important to be well acclimatized to the altitude. Try to spend at least 2 or 3 days in Cusco (3,350m/11,047ft) prior to starting the trek.
ARE THERE TOILETS ON THE LARES TREK?
This has been highly appreciated by most of our clients, especially by our trekkers, who want a private, clean and sanitary toilet! SAM Travel Peru toilet facilities have an individual tent and a camping toilet with a seat. Check out the picture, which illustrates how we set up our camping toilet on the trek by using this link: picture of toilet tent. Our toilet is always set up a comfortable distance from our campsite.  At night if you need to use the toilet it is readily accessible and clean.
There are hot showers and hot water pools to soak in and relax on the 3rd day of your trek at the Lares Hot Springs. Be sure to bring your bathing suit.
WHAT HAPPENS IF I AM UNABLE TO FINISH THE TREK?
In the unlikely scenario that you are unable to finish the trek due to a health issue, Sam Travel Peru will assist you to the nearest town for help with transportation. We always carry oxygen on the trek for any respiratory problems In extreme cases, a helicopter pick up can be arranged at your own expense. (Travel insurance required). There are no refunds in the unlikely situation that you are unable to finish the trek.
Generally, those who have to be assisted off the trail are taken to Ollantaytambo and if they recover quickly, they then continue the journey to Aguas Calientes (cost incurred by trekker) and visit Machu Picchu according to original plan.
ARE WE GOING TO BE DROPPED OFF AT OUR HOTEL AFTER THE LARES TREK ?
Absolutely!! Included in the package and on the last day we will drop you at your hotel! If you have booked your hotel in the Sacred Valley like Ollantaytambo or Urubamba, we will drop you there too!   If you spend the night at Ollantaytambo before the trek, for sure we will pick you up there !
AT WHAT TIME IS THE TRAIN DEPARTURE?
It will depend on the train availability (high season it could book out) but the idea is to give you as much time as possible in Machu Picchu and enjoy the amazing views on the way back to Cusco from the train. Therefore, you we usually book the train at 14:55 or 15:20.
 HOW MUCH IS THE VISTADOME UPGRADE?
The Vistadome train service has nicer seats, panoramic windows and ceiling. You will be offered snacks and a dance show will take place on board. You can upgrade to the Vistadome Train for $67 USD. These trains run from Aguas Calientes to Poroy. We will pick you up in Poroy and drive you back to Cusco, which takes about 25 minutes. Please request in advance.
TIPPING
If you're happy with the services provided, a tip – though not compulsory – is appreciated. While it may not be customary in your country, it's of great significance for the people who will take care of you during the trek. It inspires them to give excellent service and is an entrenched feature of the tourism industry across many SAM Travel Peru destinations. Of course, you are free to tip as much as you feel appropriate, depending on your perception of the quality and the length of your trip. Remember, a tip is not compulsory and should only be given when you receive excellent service.
ARE WE SUSTAINABLE? 
Yes, we are a local, sustainable & responsible tourism operator for that we incorporate the universal principles of tourism: protect the environment and benefit the local communities by respecting their culture and religion. With this in mind, we have trained all our local staff to know and understand, respect the places and the local people.
WHAT YOU HAVE TO TAKE WITH YOU
Original passport (it has to be the same you have used for booking your trek)
Valid university card (if you booked as a student)
Good daypack (the smaller, the better)
Water storage:  2-3L  (please bring reusable, not disposable, bottles)
Comfortable hiking boots with ankle support
Sleeping bag (can be rented from SAM Travel)
Headlamp: essential
Toilet paper
Good rain gear.
WHAT TO PUT IN YOUR DUFFEL BAG
As a  Direct Local Tour operator we provide you with a duffel bag at your briefing and  INCLUDE an extra porter who will carry up to 7 kgs or 14lbs including your 2.5kg sleeping bag, mattress and extra clothing. By Peruvian law, a duffel bag must not weigh more than 7 kilograms (15lbs). This limit is set to protect the health of the porters or horses. All bags will be weighed before being accepted. If you require more than 7 kilograms, it will then be your responsibility to carry the extra weight with your day pack. In this 7 kilos, please count 2 kilos for your sleeping bag and 1 kilo for your sleeping pad. This leaves you about 4 kilos for your personal gear.
2 t-shirts
2 hiking pants at least
4 sets of undergarments
3 sets of hiking socks
Bathing Suit for the thermal waters
2 fleece or thermals
Warm clothes, down jacket — 2nd campsite temp around 3º C
Waterproof gloves (even if they are ski gloves, take them)
Comfortable shoes for camp
Quickdry towel. We provide small ones, you might prefer something larger
Small bottle of soap: we provide warm water each day to wash
Battery Charger: No electricity along the trek
Large plastic bags will be provided at the office to line your duffel
Sleeping bag: It has to be at least -15ºC – This can be rented from us
TOILETRIES
Face moisturizer
Hand sanitizer
Wet wipes
Toothbrush and toothpaste
Personal medications
First aid kit: band aids, moleskin, etc
WHAT TO PUT IN YOUR BACKPACK
We highly recommend a small backpack 30 to 40L for hiking in the day. A big backpack will not be allowed into Machu Picchu. The remainder of your belongings will be in your duffel bag at camp.
Water: Please supply your own water until the first lunch spot, then we will provide you with cold boiled water  at every meal time. Please bring your canteens
Sun hat
Sunscreen
Headlamp: essential
Wool hat
Rain gear
Fleece
Snacks like chocolate bars, cereal bars or any dry fruits
Gloves
Camera
Hand sanitizer
Toilet paper and small plastic bag for waste
Extra money for souvenirs, drinks & tips