OVERVIEW
The Inca Trail Trek to Machu Picchu is one of the most famous and popular trekking routes in the world. It is a stunning hiking trail that leads to the ancient Inca citadel of Machu Picchu, located in the Andes Mountains of Peru. This trek is renowned for its breathtaking natural beauty, Inca archaeological sites, and the sense of adventure it offers to those who undertake it.
The trail traverses through the magnificent Andean mountain range, taking hikers through a variety of landscapes, including lush forests, high-altitude passes, and stunning Inca ruins. The trail's most famous destination is the ancient city of Machu Picchu, which was built in the 15th century and is considered one of the greatest architectural wonders of the world.
To hike the Inca Trail, you must obtain a permit, and there is a limit on the number of permits issued each day. This means that it's essential to book your trip well in advance and to ensure that you have all the necessary documentation before embarking on your journey.
To fully enjoy the trail, it's recommended to book with a licensed tour operator, who will provide you with a guide, porters, and all necessary equipment. The porters will carry your camping gear, food, and other supplies, allowing you to focus on the incredible scenery and immerse yourself in the experience.
The Inca Trail can be challenging, with steep ascents and descents, high altitude, and variable weather conditions. It's essential to be physically prepared and to acclimate to the altitude before starting the trek. However, the trail's breathtaking views and the unique opportunity to explore the history and culture of the Inca civilization make it a journey that is well worth the effort.
Highlight of the Inca Trail Trek.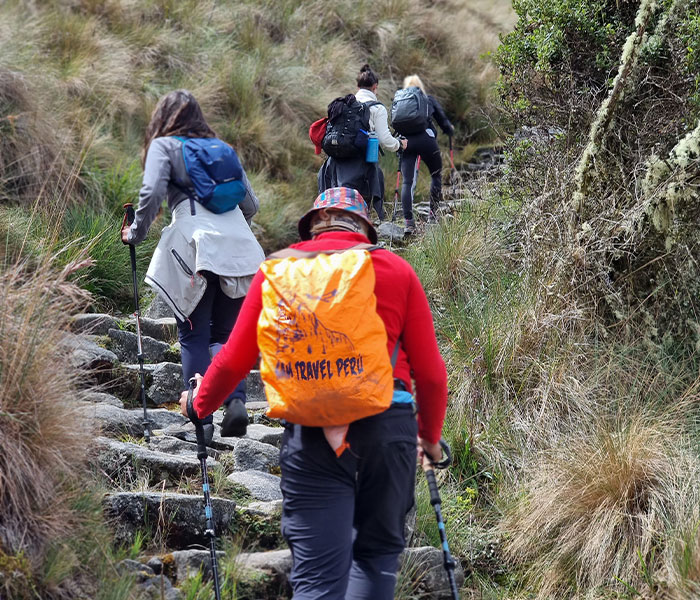 Stunning Scenery
The Inca Trail winds through some of the most spectacular landscapes in the world, from lush jungles to snow-capped peaks and high-altitude plateaus. Along the way, you'll see incredible vistas of the Andes and be surrounded by natural beauty.
Patallacta
This archaeological site, located in the lush and green Urubamba valley, Cusco, the highland terraces of Patallacta were likely used for crop production for Tambos, or resting places for travelers, that accommodated people on pilgrimage to Machu Picchu during Incan times. It's only accessible from a single narrow stone staircase.
Dead Woman's Pass
Climb out of the Sacred Valley towards Warmiwanusca, or Dead Woman's Pass, on the second day of the classic Inca Trail to Machu Picchu 4 days. This highest point of the trek at 4,215 m (3,828 ft) with stunning views at the summit.