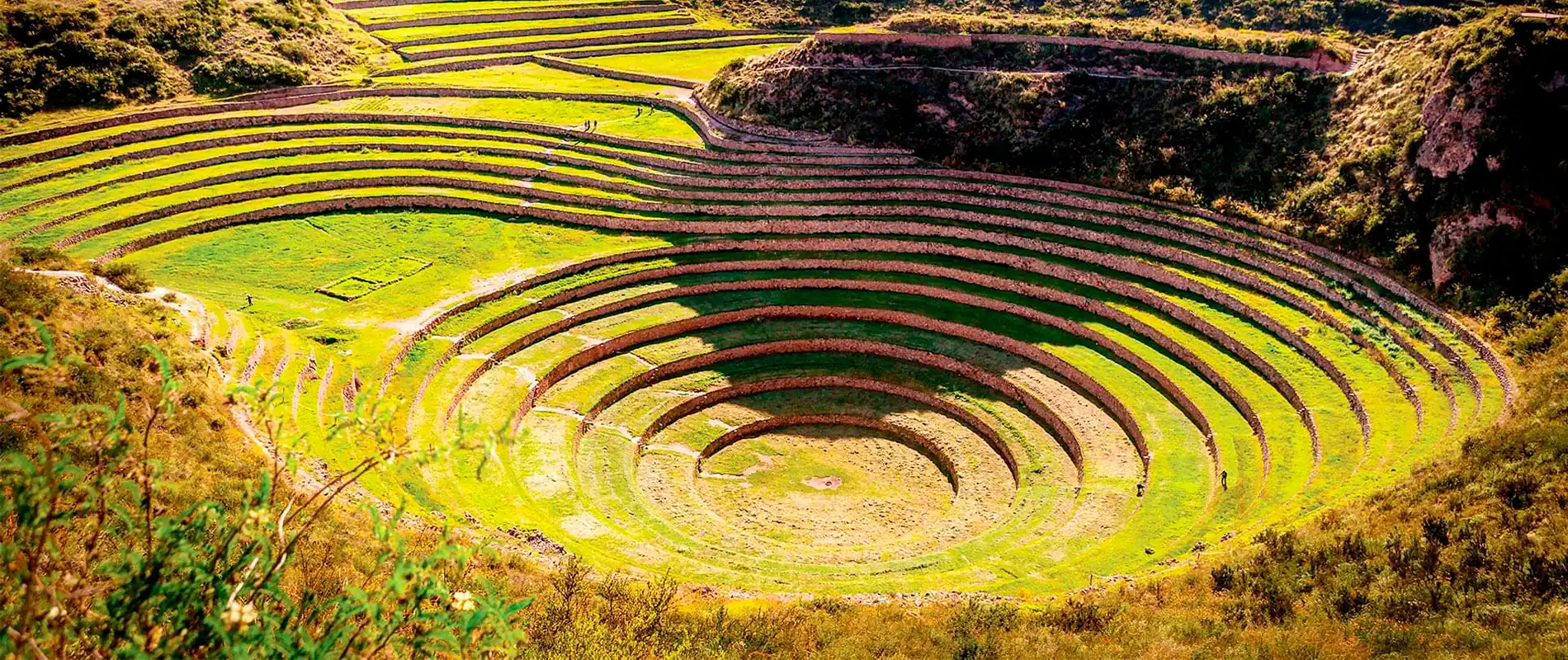 Trip Overview
The valley between Pisac and Ollantaytambo is known as the Sacred Valley of the Incas. On this tour, we will drive through the mountains of the Sacred Valley, which played a key role in Inca culture and history. The Valley has a milder climate and is at a lower altitude than Cusco. You will see a succession of picturesque villages, ancient Inca terraces, and the most important archeological sites.
The valley has long been the home of attractive colonial towns, isolated weaving villages, handicraft markets and lofty 10th and 11th century Inca Citadels of Pisac, Ollantaytambo and Urubamba. Visiting the Salt Mines and Moray terraces, which were made by building containment walls filled with fertile earth. They were watered through a complex irrigation system. At the base of the terraces, there is a rainwater storage system. The entire system allowed for the cultivation of the Incas to grow over 250 types of vegetables.
Explore amazing ruins and the fabled Lost City of the Incas, Machu Picchu. The Inca City of the Historic Sanctuary of Machu Picchu is the articulating center of its surroundings, a masterpiece of art, urbanism, architecture and engineering of the Inca Civilization. The working of the mountain, at the foot of the Huayna Picchu, is the exceptional result of integration with its environment, the result of a gigantic effort as if it were an extension of nature.
What to Expect when Booking with SAM Travel
Great Service with the best Team

Everything organized, just hike & have fun

Small intimate groups of 2 to 8 person

Guaranteed 2 or more book, you go!

Highly trained English-speaking guides

All Included
ITINERARY FOR THE SACRED VALLEY & MACHU PICCHU TOUR.
Day 1: Pisac – Moray – Maras Salineras – Ollantaytambo – Aguas Calientes
We start this beautiful day at 7:30am, when your guide picks you up at your Cusco hotel in our private van. Our route to the Sacred Valley of the Incas leads us towards Pisac. We stop first at the Mirador of Taray to enjoy an expansive view of the Urubamba valley and its traditional farming villages. You will see how the agriculture in the Sacred Valley has changed little in the past five hundred years. Onward, we drive to the archeological site of Pisac, where you can see an impressive Inca cemetery with more than 2,000 tombs. There, we can admire the carefully engineered farming terraces carved into the mountain, explore the Inca tunnel and the religious area of this important citadel. Here, we will spend about 2 hours, exploring the Inca city. Then, we head down to the colorful market of Pisac, spend about 20 minutes visiting it and then drive to Urubamba for lunch (Not included).
Our next stop is the archeological site of Moray also known as "The Greenhouse of the Incas" a deep basin of architectural wonder. Levels of terraces are carved into a huge bowl, which was carefully engineered by the Incas. The terraces have varied microclimates depending on how deep into the bowl they are placed. Archeologists believe that they were used by the Incas to discover the optimal growing conditions for their crops and experiment in hybridization.
Continuing on our journey to the colonial town of Maras, we look down onto the pre-Inca salt "mines," called salineras in Spanish. Thousands of salt pans have been passed down through countless generations and used for salt extraction since before Inca times. A hot spring at the top of the valley discharges a small stream of heavily salt laden water, which is diverted into salt pans and evaporated to produce salt. This is one of the few places in the world where you can find naturally pink salt!
Finally, we drive to Ollantaytambo, taking the time to explore the Inca village that has remained intact since Inca times and the massive Inca Ruins, with a tour provided by our guide. Visit the massive architecture of the Sun Temple at the top of the formidable terraces and learn about the importance of this site for the Inca during the beginning of the Spanish conquest.
After time for dinner (Not included), we take the train to Aguas Calientes, where you spend the night in our hotel. The train departs Ollantaytambo at 7:04 and arrives in Aguas Calientes at 8:45.
3* Accommodations: Ferre´ Hotel Machu Picchu
4* Accommodations: El Mapi or Tierra Viva Superior
Day 2: Aguas Calientes – Machu Picchu – Cusco
This is the day you've been waiting for! After an early breakfast at your hotel, you'll take one of the first buses up to Machu Picchu, so that you can be there to witness the sunrise. It is a truly extraordinary site and not something you'll want to miss! Your guide will give you a tour, which takes about two hours. You will see most of the important parts of Machu Picchu Citadel. You will also learn about how Machu Picchu is divided into three sectors: agricultural, residential and religious.
After your tour, those who have booked in advance for the extra hikes up Huayna Picchu Mountain will have time to enjoy those views on their own. When you have had your fill of the exceptional views of Machu Picchu, you will take the bus back down to Aguas Calientes for lunch (not included). Depending on your train departure time, you may also have time for some shopping, sightseeing or a visit to the museum or hot springs.
The Expedition train will take you back to Ollantaytambo at 2:55pm or 3:20pm, following the spectacular Urubamba River. Close to Aguas Calientes, the canyon is narrow and the river has many beautiful sections of whitewater. You can also see Wiñay Wayna from the train, if you look up high on the steep canyon wall! Back at Ollantaytambo, your driver will meet you at the exit from the train station to take you back to your hotel in Cusco in our private vehicle. You can expect to arrive at your hotel by 7:30pm.
***IMPORTANT:
Hiking up to the Sun Gate and Inca Bridge is not possible anymore due to new regulations.
Return Expedition Train time depends on availability and how much in advance you have booked.
You can upgrade to the Vistadome Train for the following times, 2:55pm or 3:20pm, 4:22pm, or 4:43pm. The cost is $67 USD.
Early trains can be organized by request and it has to be done by booking time.
.

What is included for the Sacred Valley & Machu Picchu tour?
Small group of 2 to 8 people.
Pick up at your hotel
Professional guide fluent in English and Spanish
Private comfortable transportation
All entrance tickets for the different archeological sites
Entrance ticket to Machu Picchu
Round trip Expedition train Ollantaytambo – Aguas Calientes – Ollantaytambo
1 breakfasy
Hotel at Aguas Calientes with private room, bathroom, and wifi
Round trip bus tickets Aguas Calientes – Machu Picchu – Aguas Calientes
Transfer from Ollantaytambo to Cusco via private van
Taxes
What is not included?
Water and snacks
Meals
Huayna Picchu -$75 USD
Upgrade to Vistadome Train – $67 USD (for the return train only)
Other meals as indicated on the itinerary
Tips for your guide
**Huayna Picchu Mountain is optional trek within Machu Picchu Citadel which do not include a guide. The climb is usually done on your own after your tour of Machu Picchu Citadel. If you would like the extra hike to be guided, please request in advance. There is an extra cost for this extra guided tour.
The Sacred Valley & Machu Picchu tour can be done on any date that is best for you as long as we have a minimum of 2 people!
PRICES:
| | | | | |
| --- | --- | --- | --- | --- |
| | Without Hotel | 3* Hotel (Included) | 3* Hotel (Others) | 4* Hotel |
| Price Per Person | $437 USD | $457 USD | By request | US$547 |
With Hotel – 3* Hotel Ferre´ Machu Picchu
Hotel single supplement: $40 USD 3* for solo travelers
Private service is available for $100 USD more per person.
All entrance fees are included and we operate our tours in small groups averaging 5 people with a maximum of 8!
DISCOUNTS
18 to 25 years old: $30 USD. Information required on student card: name of university, student name, photo of student, expiration date etc. A copy of the card is required for booking & government approval for discount.
Under 18 years old: $30 USD. Please send us a copy of your passport at the time of booking.
Under 11 years old: $40 USD. Please send us a copy of your passport at the time of booking.
EXTRAS
Huayna Picchu $75 USD.
Upgrade to Vista Dome Train: $67 USD.
Upgraded Hotel – (Can upgrade to 4 or 5*)
Hotel single supplement: $40 USD 3* for solo travelers
**Huayna Picchu Mountain is an optional trek within Machu Picchu Citadel which does not include a guide. The climbs is usually done on your own after your tour of Machu Picchu Citadel. If you would like the extra hike to be guided, please request in advance. There is an extra cost for these guided tours.
WHY CHOOSE SAM TRAVEL FOR THE SACRED VALLEY & MACHU PICCHU TOUR?
SAM Travel Peru is a family owned travel agency and a local tour operator based in Cusco with personal experience over many years of trekking. SAM Travel Peru is a 100% Cusqueñian Company without any shareholders.
Our dream as a locally based company is to create small personalized tours & treks strictly and only operated by local professional staff catering in PERSONALIZED and HIGH QUALITY SERVICE.
We take pride in our reputation as a RESPONSIBLE & SUSTAINABLE tour operator. Our staff are our extended family. We ensure they are supported financially by offering them a fair salary. We are proud of our team without them , we wouldn't be able to offer the best service and lifetime experiences to our clients.
SAM Travel Peru knows how important it is to trust in a reliable honest operator to create your adventure of a lifetime while in Peru. Check out our reviews and certificates of excellence on, TRIPADVISOR for yourself! Also we are highly recommended on Conde Nast Travelers, Lonely Planet and by many blogs like: Salkantay/Inka Trail ! July 14th to 20th 2016 Trek de Lares 4 hours, "It's the journey, not the destination…", Lares Pass – Day 3, Trekking in the Sacred Valley.
SMALL GROUPS
To ensure a more personalized service for our guests, at SAM Travel Peru we have a policy that our groups will not exceed 8 people. This fact alone sets us apart from other companies that operate departures with bigger groups.
OUR TOP TOUR GUIDES FOR THE SACRED VALLEY & MACHU PICCHU TOUR
We are so proud of our guides! They are highly professional and speak fluent English. They are very knowledgeable and passionate for Inca heritage and history. Our guides are dedicated to continuous personal and professional development. They do research to ensure that you receive accurate and recognized theories in Inca and Andean culture. Our crew is fun loving, great sports and well-educated. They all hold degrees in one of the following: Archeology, Tourism, Botany, History or Anthropology.
OUR SERVICE PROJECTS
SAM Travel Peru has always believed that we should give back to the communities we pass through on our treks. Therefore, as part of our commitment in responsible tourism, we socially support and employee from these communities.
SAM Travel Peru is proud to be able to support these beautiful people, not only in hiring them for work but to bring things back to grassroots, to share in their home and families. This makes us happy to have a holistic approach with our highland employees and their families!
A beautiful reflection of our attitude in everything we do, is that we wish to make life richer and more meaningful for all involved.
GENERAL IMPORTANT INFORMATION
Please read carefully the following information. It will help you answer all of your questions about our services and Sacred Valley & Machu Picchu Tour.
THE BRIEFING
The briefing will take place the night before the trek at 6pm in our office, which is located at Calle Garcilaso 210, office 213 (second floor) in the La CASA DEL ABUELO shopping center.
CAN I STORE MY LUGGAGE AT YOUR OFFICE?
Of course! During the Sacred Valley & Machu Picchu Tour your main luggage can be store at our office or at your hotel, whichever is more convenient for you. Please don´t pack anything you will need for your hike.
HOW TO BOOK THE SACRED VALLEY & MACHU PICCHU TOUR?
FIRST, to book your Sacred Valley & Machu Picchu Tour, we need you to fill out our booking form by clicking on BOOK NOW on our homepage or click here the link BOOK NOW.
Please be ready with the following information (FROM EACH PARTICIPANT in your group). We cannot purchase an an entrance to Machu Picchu or the train without the following information:
Personal information (your full name, exactly as on your passport):
Gender
Passport number
D.OB. (dd / mm / yyyy)
Nationality
SECOND, we require a deposit of US$211.00 per person in order to purchase a your entrance to Machu Picchu and train ticket. You can make you deposit by clicking on the VISA or PAYPAL symbols on the top of our home page, or you can click on the VISA or PAYPAL symbols on our booking page or click here on the payment method of your choice, either VISA or PAYPAL.
WHAT ABOUT THE BALANCE?
If you would like to avoid the high credit card fees in Peru, you may pay in cash at our office (US dollars or Peruvian soles) here in Cusco. There are many ATMS within the historical center to withdraw money. You can also pay by VISA or PAYPAL online but you will have to pay a 5.5% service fee, charged by VISA and PAYPAL. To pay your balance through PAYPAL, you need to log into your PAYPAL account and use our email address balances@samtravelperu.com
HOW DO I QUALIFY FOR THE STUDENT DISCOUNT?
According to Peruvian Law, you must be under 18 years of age at the time of your trek or tour to Machu Picchu (students 18 & above need student cards). For example: if you book a trek at the age of 17 but you turn 18 before you do your trek, you must have a valid university ID card to qualify for the student discount.
University students must provide a copy of their ID card showing a photo, University name and card expiration date. Cards must be valid for the current academic year only.
All students from 11 to 17 years, the discount is $30 USD.
For children from the age of 2 to 11 the discount is $40 USD.
Children from the age of 0 to 2 are free.
All students must provide a copy of their passport at the time of their booking to get the student discount. Send us a copy at info@samtravelperu.com
MAY I CHANGE THE DEPARTURE DATE AFTER THE TICKETS HAVE BEEN BOUGHT?
Yes, but with some restrictions. Once the tickets for Machu Picchu have been bought the government does not allow any changes, so we can't change any departure date after the tickets has been bought. Tickets are also not transferable nor refundable.
*** If you cancel your Sacred Valley & Machu Picchu Tour, the deposit is not refundable at all!
DO I NEED MY ORIGINAL PASSPORT FOR THE SACRED VALLEY & MACHU PICCHU TOUR?
Yes for sure! You have to bring your original passport and it is very important that it is the same passport number you sent to us to book your entrance to Machu Picchu, train ticket, other entrances and reservations. The rangers will check when you enter Machu Picchu. The train company will also check your passport before allowing you to board the train.
In case you are renewing your passport or changing your name, go ahead and send us your old passport information to secure your permit, and we can change it when you get your new passport number or updated your name for a fee of $25 per person. We must have a copy of your old and new passport to make the change. Before you change your passport keep a copy of your old one.
If you do not wish to pay this fee you will need to bring both passports to Peru with you. You can enter Peru with your new passport but you will need to show both passports, old and new to be to enter into Machu Picchu or the train. If you do not have both you will not be allowed to enter into Machu Picchu or get on the train. They are very strict about this here!!
WHAT IS THE WEATHER LIKE IN THE SACRED VALLEY & MACHU PICCHU TOUR?
The weather is very unpredictable and it's difficult to foresee. We recommend you to bring a warm jacket for early morning and rain jacket in case of a rain shower. SAM Travel will provide a rain poncho for you!
ARE WE DROPPED AT OUR HOTEL AFTER THE SACRED VALLEY & MACHU PICCHU TOUR?
Absolutely! Included in our packages is dropping you off at your hotel on the return from your trek or tour. If you have booked your hotel in the Sacred Valley like Ollantaytambo or Urubamba, we will drop you there too!
TIPPING
If you're happy with the services provided, a tip – though not compulsory – is appreciated. While it may not be customary in your country, it's of great significance for the people who will take care of you during the tour. It inspires excellent service and is an entrenched feature of the tourism industry across many SAM Travel Peru destinations. Of course you are free to tip as much as you feel appropriate, depending on your perception of the quality and the length of your tour. Remember, a tip is not compulsory and should only be given when you receive excellent service.
ARE YOU SUSTAINABLE?
Yes, we are a local sustainable & responsible tourism operator for that we incorporate the universal principles of tourism: protect the environment and benefit the local communities respecting their culture and religion. With this in mind, we have trained all our staff to know, understand and respect the local places and its people.
WHAT YOU SHOULD BRING FOR THE SACRED VALLEY & MACHU PICCHU TOUR?
A small backpack or carry bag (larger bags not allowed on the train or in Machu Picchu)
A change of clothing for the second day
Comfortable shoes or runners
Camera
Water to drink
Rain jacket or poncho
A fleece or jacket
Basic toiletries
Sunscreen
Insect repellent
Hat for the sun
Some extra money for lunch, snacks and souvenirs
Original passport (you cannot enter Machu Picchu without it)
WHY BOOK WITH
SAM TRAVEL?
SAM Travel was born of our love for sharing these beautiful places with travelers. Our owner ( Saúl Alvarez ) went from porter to guide to business owner, without losing sight of his roots. We know how to show you the most beautiful places and give you the most authentic experiences. For Sam Travel our guides are the most important in the business, they all are fluent in Ingles and passoinated about teh culture. They are all trained and retrained in first aid and carry satellite phones for any emergency to be connected to a medical professional when or if needed. We can guarantee our guides will make you feel like hiking with your own family or friends
EXPERT Direct & 100% Local Tour operaor
All our Tours & Treks are provided only by SAM Travel Peru staff and professional guides. What that means for you is that SAM Travel Peru will never pass you onto another company or 3rd Party .
Our Camping Equipment
Enjoy a good night sleep in our 4 season igloo waterproof, spacious and professional EUREKA tent. All our tents are 4 person tents. ONLY 2 people will sleep in each, leaving lots of room to spread out comfortably and store your duffel bag.
Small Groups for Big Wows
To ensure a more personalized service for our guests, at SAM Travel Peru we have a policy that our groups will not exceed 8 people. This fact alone sets us apart from other companies that operate departures with bigger groups..
Unique Tours & Trekking Packages for all budgets
We have the most customized tours and packages for all budgets. They are created to meet our clients' desires and needs when looking for something unique in a travel experience.
Gourmet and Hearty Meals
SAM TRAVEL PERÚ has one of the most outstanding meal services. Our chefs have been highly trained to prepare the best peruavian food our treks.
Our Commitment to the Environment
SAM Travel Peru has annual clean-up campaigns that creates awareness towards people across the planet that have the same desires to help protect the environment. It is our commitment in creating a positive and sustainable contribution towards the quality of life for rural Andean communities. .
Join the thousands of satisfied customers who rate us #1 on TripAdvisor
Why you should travel

with SAM Travel?