1 Day Inca Trail to Machu Picchu Trip Details
Hike the 1 day Inca Trail to Machu Picchu through the Sun Gate & explore Machu Picchu Right Away!
***All time references are approximate based on hiking speed of group and availability of tickets. 
At 4:00am your guide will pick you up with our van at your hotel in Cusco (4am) or  Ollantaytambo (5:30am)
You will travel through Sacred Valley to Ollantaytambo Train Station. (Train leaves at 6:10 am)
The Expedition train ride consists of spectacular views in the Sacred Valley of the Incas. It takes a little over an hour to get to KM 104.
At 7:30 – 8:00 am, you and your guide will start hiking through the original Inca till the Sun gate, from where you will have the first amazing view of Machu Picchu. The exact time depends on the group.
You will explore amazing Inca cities along the Inca Trail, especially the Wiñay Wayna Inca ruins.
You will have Box lunch after exploring the Wiñay Wayna archaeological site, usually around noon.
An hour or so after lunch you will arrive at the Sun Gate where you will get your first view of Machu Picchu!
By 2:00pm you will start exploring Machu Picchu Citadel. Your guide will explain all the history of this amazing and mysterious Incan city.
In the late afternoon, enjoy the sunset and take the iconic photo of Machu Picchu when it is empty of tourists. 
By 5:00pm take the bus down to Aguas Calientes, with time for a quick dinner in a restaurant, or to buy a take out dinner to eat on the train. (Dinner is not included).
The Expedition Train departs at 6:20pm take the train back to Cusco then we will drive you back to your hotel in Cusco in our private van. If you choose the Vistadome, your train will depart at 6:10pm.
***It is not possible to climb Huayna Picchu or Machu Picchu Mountain due to time restraints.  
***If you choose, you can stay the night in Aguas Calientes but you need to make your own hotel reservation; and we will book your return train for the next day. 
*** You can start the trek from Ollantaytambo.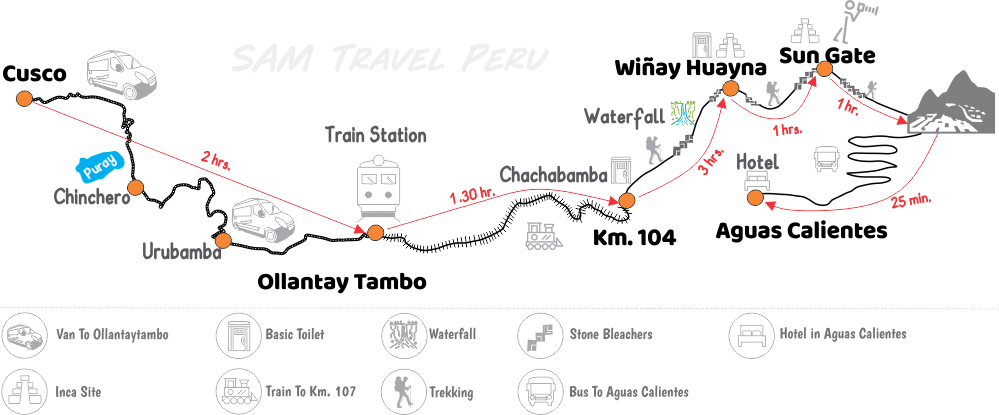 ITINERARY FOR THE 1 DAY INCA TRAIL TO MACHU PICCHU
Day 1: Cusco – Ollantaytambo – KM104 – Wiñay Wayna – Sun Gate – Machu Picchu – Aguas Calientes – Cusco
Your guide will pick you up at your hotel at 4am in Cusco for the journey with our private transport to the train station of Ollantaytambo. (If you prefer to begin in Ollentaytambo, we will pick you up at your hotel at 5:30am).
Before boarding the train in Ollantaytambo, your guide will provide your box lunch, which you carry in your daypack. After an hour and 15 minutes train ride, you get off the train at the famous Km104, where your hike begins! (2,000m/6,560 ft. above sea level) After crossing the Urubamba river on a picturesque foot bridge, you will show your passport at the checkpoint and visit your first Inca site nearby. The first hour and a half is a gentle hike upward. Along the way, you will stop at several outlooks where you have an expansive view of the Urubamba River. You also pass through several microclimates, including cloud forest, so be ready for damp or even rain at any time of the year. The next hour and a half are a slightly steeper uphill, with a beautiful waterfall as your reward at the end of the hike!
When  you cross the bridge below the waterfall, be sure to take some time for photos and as you do you  will find yourself gazing up at the spectacular Wiñay Wayna! (2,600m/8,500ft above sea level) These amazing Inca ruins have a fascinating history and some parts are still hidden by the dense jungle. This close to Machu Picchu, you are hiking through lush sub-tropical jungle. Your guide will tell you all about the ruins, plus the incredible flora and fauna of this microclimate and answer any questions you have before the short 5 minute walk to your lunch spot.
You will enjoy your box lunch at a covered shelter at the Wiñay Wayna campground, which is the last campground for those hiking the four day Inca Trail. Nearby are outdoor sinks to wash your hands and also restrooms. Take your time enjoying your hearty, gourmet lunch and admiring the tropical flowers around the campground. Be sure to notify us of any food allergies or dietary restrictions when you book!
After lunch, you will have a mostly flat walk to the Sun Gate, from which you have your first view of Machu Picchu! Though the hour long walk is a gentle rolling up and down, it does end with a set of steep stairs carved directly into the bedrock by the Inca. Once you reach the stairs you will know that you're almost at the Sun Gate! It is a breathtaking view of Machu Picchu, so take some time to savor the moment and take photos. The last 60 minutes down from the Sun Gate provide many opportunities to take more photos of Machu Picchu from this unique vantage point. There are also a couple more important Inca sites between the Sun Gate and Machu Picchu, so make sure to go slowly, enjoy your time walking in the footsteps of the Inca on the Inca Trail and ask your guide questions about these historical places on the last bit of your hike to Machu Picchu.
Once you reach Machu Picchu, you will have time to take more photos from the viewing platforms above the site, the "House of the Guardians"where you can take the famous postcard pictures of Machu Picchu. You will arrive in the afternoon, as the archeological area starts to empty of tourists, which gives you the opportunity to take beautiful photos in the afternoon light with fewer people in your shots. Your guide will give you a tour, which takes about two hours. You will see some of the most important parts of Machu Picchu. You will also learn about how Machu Picchu is divided into three sectors: agricultural, residential and religious.
Take your time to enjoy this magical experience before you take the bus down to Aguas Calientes. In the evening at 6:20pm you will take the return Expedition Train to Ollantaytambo and catch our private van to Cusco and your hotel.  You will arrive around 10:00 pm. If you upgrade to the Vistadome Train, you will depart Aguas Calientes at 6:10pm.
Meals: Picnic lunch
Difficulty: Moderate to difficult
****It is not possible to do the Huayna Picchu or Machu Picchu Mountain climb due to time restraints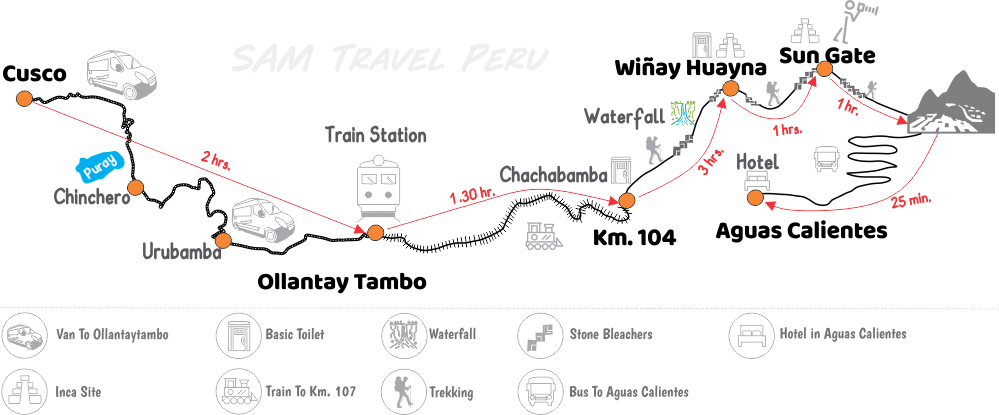 WHAT IS INCLUDED FOR THE 1 DAY INCA TRAIL TO MACHU PICCHU?
Transfer from the airport to your hotel
Pick up at your hotel by your guide
Private transport from your hotel to the train station
Bus ticket from Machu Picchu to Aguas Calientes
English speaking professional guide experienced in trekking
Expedition Train from Ollantaytambo at 104 kilometers and from Aguas Calientes to Ollantaytambo with private van connection to Cusco
Admission Ticket to the Inca trail and Machu Picchu Archeological site
Box lunch
Private guided tour of Machu Picchu
First-aid kit including emergency oxygen tank
Taxes
WHAT IS NOT INCLUDED FOR THE 1 DAY INCA TRAIL TO MACU PICCHU?  
It is not possible to do the Huayna Picchu or Machu Picchu Mountain climb due to time restraints
Energy snacks such as chocolate bars, dried fruits
First breakfast & Dinner at Aguas Calientes
Tips for the staff (Sam Travel Peru staff receives a fair payment immediately after they end their trip; tips are optional but greatly appreciated by them)
Upgrade to Vistadome Train: $67 USD per person – (Return only)
ADDED VALUES  for FREE:
TRANSFER IN: from the airport to hotel included (Airport to hotel in Cusco only)
BEST PRICE FOR THIS UNIQUE TREK!
The 1 day Inca Trail to Machu Picchu is available on any date that suits you! We just require a minimum of 2 participants!  
GROUP PRICES:
PRIVATE SERVICE PRICES:
$497 USD per person – 2 to 3 persons
$477 USD per person – 4 or more persons
PRIVATE PRICE 1 person only:
$597 USD per person – 1 persons only private trek
We require a minimum of 2 hikers in order to start the trek. If you are a solo traveler- please inquire on the dates you are looking to trek so you can join an existing group.
DISCOUNTS
18 to 25 years old: $30 USD. Information required on student card: name of university, student name, photo of student, expiration date etc. A copy of the card is required at booking for government approval for discount.
Under 18 years old: $30 USD. Please send us a copy of your passport at the time of booking.
Under 11 years old: $40 USD.  Please send us a copy of your passport at the time of booking.
EXTRAS
Upgrade to Vistadome: $67 USD per person (Return only)
Stay the night in Aguas Calientes  2*3*or 4* hotel.  (We will arrange your return train back to Cusco for the next day, however you need to book your own hotel)
**** The Short Inca Trail to Machu Picchu 2 days & 1 night is almost always available year round except when it is closed in February for maintenance — This trek takes you into Machu Picchu by walking through the SUN GATE like in the ancient times, you will explore some amazing Inca ruins along the way like Wiñay Wayna Inca City.
CHECK YOUR SHORT INCA TRAIL TREK AVAILABILITY BY CLICKING ON MONTH OF YOUR CHOICE!
[SamCalendarAlternative rtu="4″ package="SIT2D" lang="en"]
WHY CHOOSE SAM TRAVEL? 
SAM Travel Peru is a family owned travel agency and a local tour operator based in Cusco with personal experience over many years of trekking. SAM Travel Peru is a 100% Cusqueñian Company without any shareholders.
 Our dream as a locally based company is to create small personalized tours & treks strictly and only operated by local professional staff catering in PERSONALIZED and HIGH QUALITY SERVICE.  
We take pride in our reputation as a RESPONSIBLE & SUSTAINABLE tour operator. Our staff are our extended family. We ensure they are supported financially by offering them a fair salary. We are so proud of our team! Without them, we wouldn't be able to offer the best service and lifetime experiences to our clients.
SAM Travel Peru knows how important it is to trust in a reliable honest operator to create your adventure of a lifetime while in Peru. Check out our reviews and certificates of excellence on, TRIPADVISORS for yourself! Also we are highly recommended on Conde Nast Travelers,  Lonely Planet and by many blogs like: Salkantay/Inka Trail ! July 14th to 20th 2016  Trek de Lares 4 hours, "It's the journey, not the destination…", Lares Pass – Day 3, Trekking in the Sacred Valley.
SMALL GROUPS
To ensure a more personalized service for our guests, at SAM Travel Peru we have a policy that our groups will not exceed 8 people. This fact alone sets us apart from other companies that operate departures with bigger groups.
OUR TOUR GUIDES
We are so proud of our guides! They are highly professional and fluent in English. They are very knowledgeable and passionate for Inca heritage and history.  Our guides are dedicated to continuous personal and professional development. They research to ensure that you receive accurate and recognized theories in Inca and Andean culture. They are fun loving, great sports and well-educated! Our guides all hold degrees in one of the following: Archeology, Tourism, Botany, History or Anthropology.
OUR SERVICE PROJECTS
SAM Travel Peru has always believed that we should give back to the local isolated communities.  Therefore, as part of our commitment to responsible tourism, we always do many service projects and hire locally.
SAM Travel Peru is so proud to be able to support our local people, not only employing them but going back to our grassroots as they share with their families. It makes us happy to have this holistic approach with our highland employees and their families!
IMPORTANT INFORMATION
Please read carefully the following information; it will help you answer all of your questions about our services and the 1 day Inca Trail to Machu Picchu.
ARRIVAL TO CUSCO
You will be welcomed at Cusco airport and taken to your hotel. Please ensure that you inform us of your full flight details at least 14 days prior to arrival. Look out for our representative holding an orange SAM Travel Peru board at the arrival terminal. Please note that you will have to exit the airport first, drivers are not allowed to enter the airport. This can be done on any date that works best for you!
THE BRIEFING
The briefing will take place the night before the trek at 6pm in our office, which is located at Calle Garcilaso 210, office 213 (second floor) in the La CASA DEL ABUELO shopping center.
CAN I STORE MY LUGGAGE AT YOUR OFFICE?
Of course! During the Inca Trail to Machu Picchu, your main luggage can be stored at our office or at your hotel, whichever is more convenient for you.  Only pack items you will need for your trek.
HOW TO BOOK
FIRST, to book your 1 day Inca Trail Machu Picchu trek, we need you to fill out our booking form by clicking on BOOK NOW on our home page or click here the link BOOK NOW.
Please be ready with the following information (FROM EACH PARTICIPANT in your group).  We cannot purchase an Inca Trail permit without the following information:
Personal information (your full name, exactly as on your passport):
Gender
Passport number
D.OB. (dd /mm / yyyy)
Nationality
SECOND, we require a deposit of $211.00 USD per person in order to purchase a permit for the 1 day Inca Trail Machu Picchu.  You can make your deposit by clicking on the VISA or PAYPAL symbols on the top of our home page, or you can click on the VISA or PAYPAL symbols on our booking page.
WHAT ABOUT THE BALANCE?
If you would like to avoid the high credit card fees in Peru, you may pay in cash at our office (US dollars or Peruvian soles) here in Cusco. There are many ATMS within the historical center to withdraw money. You can also pay by VISA or PAYPAL online but you will have to pay a 5.5% service fee, charged by VISA and PAYPAL.  To pay your balance through PAYPAL, you need to log into your PAYPAL account and use our email address samtravelperu@gmail.com. 
HOW DO I QUALIFY FOR THE STUDENT DISCOUNT?
According to Peruvian Law, you must be under 18 years of age at the time of your trek or tour to Machu Picchu (students 18 & above need student cards). For example: if you book a trek at the age of 17 but you turn 18 before you do your trek, you must have a valid university ID card to qualify for the student discount.
University students must provide a copy of their ID card showing a photo, University name and card expiration date. Cards must be valid for the current academic year only.
All students from 11 to 17 years, the discount is $30 USD.
For children from the age of 2 to 11 the discount is $40 USD.
Children from the age of 0 to 2 are free.
All students must provide a copy of their passport at the time of their booking to get the student discount. Send us a copy at info@samtravelperu.com
MAY I CHANGE THE DEPARTURE DATE AFTER THE TICKETS HAVE BEEN BOUGHT?
Unfortunately, the answer is No. Once the tickets have been bought the government does not allow any changes, so we can't change any departure date after the ticket has been bought. Tickets are also not transferable nor refundable.  If you cancel your Inca Trail Trek, the deposit is not refundable at all!
DO I NEED MY ORIGINAL PASSPORT ON THE 1 DAY INCA TRAIL?
OF COURSE! You have to bring your original passport and it is very important that it is the same passport number you sent to us to book your 1 day  Inca Trail Machu Picchu permit.  In case you are renewing your passport, go ahead and send us your old number to secure your permit, and we can change it when you get your new passport number. Please send us the new passport number as soon as possible.
WHAT IS THE WEATHER LIKE?
The weather is very unpredictable and it's difficult to foresee. We recommend to always dress in layers as that makes it easier to adjust to quickly changing weather.
IS THE TREK DIFFICULT, DO I NEED TO BE FIT?
The 1 day Inca Trail Machu Picchu is a 12km (7.5 miles) hike through the Andes in the Cusco region. The maximum altitude reached is 2700mt.
In preparation: try walking 15kms/ 9 miles in a day or working out in the months leading up to the trek. It is also important to be well acclimatized to the altitude. Try to spend at least 2 or 3 days in Cusco (3350m/11,047ft) prior to starting the trek.
AT WHAT TIME IS THE TRAIN'S DEPARTURE?
It will depend on the train availability but the idea is to give you as much time as possible in Machu Picchu and enjoy the amazing views on the way back to Cusco while on the train. The Expedition train departs at 18:20pm.
HOW MUCH IS THE VISTADOME TRAIN UPGRADE?
The Vistadome train service has nicer seats, panoramic windows and ceiling. You will be offered snacks and a dance show will take place on board. You can upgrade to the Vistadome Train for $67 USD. These trains run from Aguas Calientes to Poroy. We will you up in Poroy and drive you back to Cusco, which takes about 25 minutes. Please request in advance. The Vistadome departs at 18:10.
ARE WE DROPPED AT OUR HOTEL AFTER THE 1 DAY INCA TRAIL?
Absolutely!! Hotel pick-ups and drop-offs are included with all of our packages! If you have booked your hotel in the Sacred Valley, we will drop you off there and vice versa.
ALTITUDE SICKNESS
In general, if you exercise regularly and spend a couple of days in Cusco or the Sacred Valley, you will be able to acclimate normally. It usually takes about 24 hours to 2 days.
The recommended remedies for altitude sickness are WATER, COCA TEA and OXYGEN IF NEEDED; our guides are trained to treat you for Altitude Sickness. See our detailed information about Altitude Sickness under FAQS.
TIPPING
If you're happy with the services provided, a tip – though not compulsory – is appreciated. While it may not be customary in your country, it's of great significance for the people who will take care of you during the trek.  It inspires excellent service and is an entrenched feature of the tourism industry across many SAM Travel Peru destinations. Of course, you are free to tip more or less as you feel appropriate, depending on your perception of the quality and the length of your trip. Remember, a tip is not compulsory and should only be given when you receive excellent service.
ARE YOU SUSTAINABLE?
Yes, we are a local, sustainable & responsible tourism operator that incorporates universal principles of tourism: protect the environment and benefit the local communities by respecting their culture and religion. With this in mind, we have trained all our local staff to know and understand, respect the places and the local people.
PACKING CHECKLIST FOR THE 1 DAY INCA TRAIL TOMACHU PICCHU
The 1 Inca Trail Machu Picchu DOES NOT INCLUDE the extra porter, so, you will need to carry all your things, please try to pack as light as possible which is the key to enjoy this amazing trek
Original passport (it has to be the same you have used for booking your trek)
Good daypack (the smaller, the better)
Water: 2L in reusable bottles (please do not bring disposable bottles)
Comfortable hiking boots with ankle support
Toilet paper
Jacket
Dress in layers
Hand sanitizer
Wet wipes
Personal medications
Sun hat
Sunscreen
Insect repellent
Wool hat (only in the cold season)
Rain gear if rainy season
Snacks (chocolate bars, cereal bars or any dry fruits)
Rain plastic poncho
Camera
Extra money for souvenirs, drinks & tips