Itinerary
MACHU PICCHU 2 DAY TOUR BY VISTADOME TRAIN
DAY 1: CUSCO – AGUAS CALIENTES 
Wake up early to rise to a new day of adventure and mindfulness sharing the day with our majestic Machu Picchu. We pick you up at your hotel at 6:35am, and then drive in our private van to the Poroy (Cusco) Train Station to leave at 7:35am. Travel through the alpine meadows nestled amongst the green, and white glacier peaks, the intricately formed valleys, layers of handmade Inca farming terraces, ridged snowcapped mountains and sub-tropical jungle near the Amazon from Ollantaytambo. The sacred Vilcanota River will be our companion until your arrival at Aguas Calientes.
Your hotel representative will meet you at the train station at 10:52 to transfer you to your hotel.   After settling in your hotel, you can enjoy lunch at your leisure in the numerous restaurants in Aguas Calientes.
Please Note  ***In rainy season from January through April the train leaves from the  Ollantaytambo Train Station.  You will be picked up at your hotel at 6:45am for the 8:53am train from Ollantaytambo arriving in Aguas Calientes at 10:29am where your hotel representative will meet you.
You will have the afternoon free to explore Aguas Calientes, relax in the Hot Springs (10 soles), shop in the handicraft market or go to visit the Butterfly Museum.  You guide will meet you at your hotel at 7pm for your briefing for your trip to Machu Picchu the next day.  
3* Accommodations: Intipunku Machu Picchu or Waman Machu Picchu
4* Accommodations: El Mapi or Tierra Viva Superior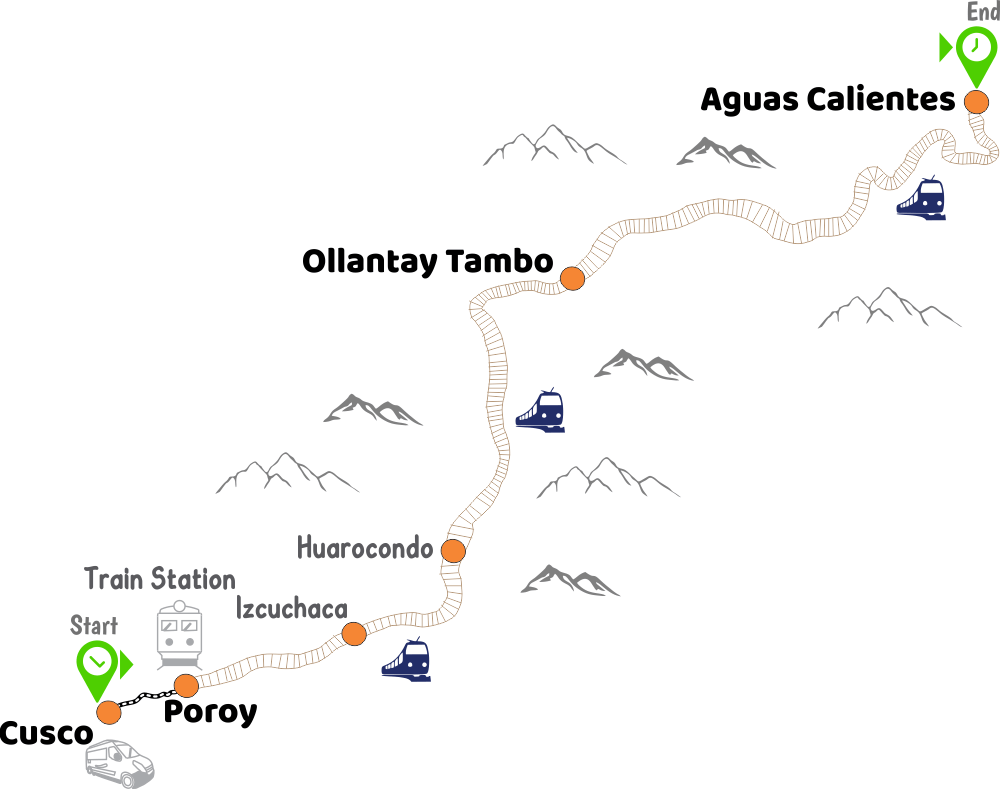 DAY 2: AGUAS CALIENTES – MACHU PICCHU – CUSCO
This is the day you have been waiting for! We take the bus up to Machu Picchu archeological site, arriving early morning, making sure we tour every nook and cranny of this New 7 Wonder of the World and UNESCO World Cultural Heritage site.On your 2.5 hours private tour, your guide will expertly direct you through the enigmatic ruins and its most important sites. You will see the Temple of the Sun, Temple of the Condor, Temple of Three Windows, Sun Dial, Quarry, the House of the Inka, the urban areas, agricultural terraces and many different types of architecture.
If you wish to indulge in a few of the following activities on your own, you can (not included in the price)
Climb up Huayna Picchu or Machu Picchu Mountain and appreciate the beauty and magnificence of Machu Picchu (An additional fee)
You can also take time to walk to the Sun Gate, 2 hours round trip or the Inca Bridge, 1 hour round trip.  (No additional fee)
Other optional activities in Aguas Calientes include a visit to the new local museum or to the hot springs. (Entrance fee to enter)
After your time to enjoy Machu Picchu, you will descend to Aguas Calientes at 12pm. You can take in a leisurely lunch or explore Aguas Calientes handicraft market and board the Vistadome train by 4:43pm for the return trip to Cusco stopping at the Poroy (Cusco) Train Station and then you will be driven back to your hotel in our private van, arriving around 9pm.  (During rainy season, January to May train only runs to Ollantaytambo. Passengers will be transferred by van to Cusco)
***Passengers that purchase Huayna Picchu tickets are given an extra 2 hours at the Machu Picchu Citadel and those that purchase Machu Picchu Mountain tickets get 2 hours extra
Inclusions
WHAT IS INCLUDED
Transfer at 6:35am from your hotel to Poroy Train Station (Cusco) by private van
Vistadome train ticket from Poroy to Aguas Calientes – from Aguas Calientes to Ollantaytambo) (Except from January through April the train only runs from the Ollantaytambo station)
Round-trip bus tickets  from Aguas Calientes to Machu Picchu (30mins)
Admission ticket for Machu Picchu Citadel
Guided tour in English 2 to 2.5 hours approximately – with a lots of free time for photos and extra hikes
(Small group from 2 to 8 people  with an experienced English speaking guide)
Return by private transportation from Ollantaytambo Train Station (Cusco) to your hotel.
WHAT IS NOT INCLUDED
Climb of Huaynapicchu US$75
Climb of Machu Picchu Mountain  US$75
Drinks
Meals as indicated in your itinerary
Tips for your guide.
Price
"The Machu Picchu Tour is available on any date that is best for you, as long as we have a minimum of 2 passengers"
PRICES:
US$407  per person without hotel 
US$437  per person with 1 night 2* hotel
US$477 per person with 1 night 3* hotel
US$517 per person with 1 night 4* hotel
***Private service is available for $40 more per person.
***All entrance fees are included and we operate our tours in small groups averaging 4 persons with a maximum of 8!  
DISCOUNTS
18 to 25 years old: US$30 Information required on student card: name of university, student name, photo of student, expiration date etc. A copy of the card at booking is required & government approval for discount.
Under 18 years old: US$30 Please send us a copy of your passport at the time of booking.
Under 11 years old: US$40  Please send us a copy of your passport at the time of booking.
EXTRAS 
Huayna Picchu Climb: US$75. This will need  to be booked in advance, let us know about it at the time of booking.
Machu Picchu Mountain: US$75.  This will need  to be booked in advance, let us know about it at the time of booking.
Upgrade Hotel – 3 star US$50. (Can upgrade to 4 or 5 star also)
Single Supplement: US$40 for 2* and US$50 for 3* for single travelers
Why SAM
WHY CHOOSE SAM TRAVEL 
SAM Travel Peru is a family owned travel agency and a local tour operator based in Cusco with personal experience over many years of trekking. SAM Travel Peru is a 1oo% Cusquenian Company without any shareholders.
 Our dream as a locally based company is to create small personalized tours & treks strictly and only operated by local professional staff catering in PERSONALIZED and HIGH QUALITY SERVICE.  
We take pride in having a reputation as being a RESPONSIBLE & SUSTAINABLE tour operator. Our staff are our extended family. We ensure they are supported financially by offering them a fair salary. We are proud of our team without them , we wouldn't be able to offer the best service and lifetime experiences to our clients.
SAM Travel Peru knows how important it is to trust in a reliable honest operator to create your adventure of a lifetime while in Peru. Check out our reviews and certificates of excellence on, TRIPADVISOR for yourself! Also we are highly recommended on Conde Nast Travelers,  Lonely Planet and by many blogs like: Salkantay/Inka Trail ! July 14th to 20th 2016  Trek de Lares 4 hours, "It's the journey, not the destination…", Lares Pass – Day 3, Trekking in the Sacred Valley.
SMALL GROUPS
In an effort to provide a more personalised service to our passengers, we in SAM Travel Peru have a policy that our groups will not exceed 8 people. This fact alone sets us apart from other companies that operate departures with bigger groups.
OUR TOP TOUR GUIDES
We are so proud of our guides! They are highly professional and speak fluent English. They are very knowledgeable and passionate for Incan heritage and history.  Our guides are dedicated to continuous personal and provessional development. They do research to ensure that you receive accurate and recognized theories in Incan and Andean culture. Our crew is fun loving, great sportsmen and well-educated. They all hold degrees in one of the following: Archaeology, Tourism, Botany, History or Anthropology.
OUR SOCIAL PROJECTS
SAM Travel Peru has always believed that we should "give back" to the communities we pass through on our treks. Therefore, as part of our commitment in responsible tourism, we socially support and employee from these communities.
SAM Travel Peru is proud to be able to support these beautiful people, not only in hiring them for work but to bring things back to grassroots, to share  in their home and families. This makes us  happy to have a holistic approach with our highland employees and their families!
A beautiful reflection of our attitude in everything we do, is that we wish to make life richer and more meaningful for all involved.
Important Info
"Please read carefully the following information; it will help you answer all of your questions about our services and tour"
WELCOME TO CUSCO
You will be welcomed at Cusco airport and taken to your hotel, please ensure that you inform us of your full flight details at least 14 days prior to your trek. Look out for our representative holding an orange board SAM Travel Peru at the arrival terminal. It can be done on any date that is best suited to you!
THE BRIEFING
It will take place the night before the trekking departure at 6pm in our office which is located at Calle Santa Teresa  Nº383 ; 303 (second floor), we are next to SUBWAY restaurant.
CAN I STORE MY LUGGAGE AT YOUR OFFICE:
Of course! During the Machu Picchu Tour your main luggage can be store at our office or at your hotel, both are for free. Please don´t  pack anything you will need for your hike.
HOW TO BOOK THE MACHU PICCHU TOUR:
FIRST, to book your Machu Picchu Tour, we need you to fill out our booking form by clicking on BOOK NOW on our homepage or click here the link BOOK NOW.
Please be ready with the following information (FROM EACH PARTICIPANT in your group).  We cannot purchase an an entrance to Machu Picchu or the train without the following information:
Personal information (your full name, exactly as on your passport):
Gender
Passport number
D.OB. (dd / mm / yyyy)
Nationality
SECOND, we require a deposit of US$200.00 per person in order to purchase a your entrance to Machu Picchu and train ticket.  You can make you deposit by clicking on the VISA or PAYPAL symbols on the top of our home page, or you can click on the VISA or PAYPAL symbols on our booking page or click here on the payment method of your choice, either VISA or PAYPAL.
WHAT ABOUT THE BALANCE?
It would be greatly appreciated if you pay in cash at our office (US dollars or Peruvian soles) here in Cusco. We have many cash machines in the historical center to withdraw money.  You can also pay by VISA or PAYPAL online but you will have to pay a 5.5% service charge, charged by VISA and PAYPAL.  To pay your balance through PAYPAL, you need to log into your PAYPAL account using our email address of samtravelperu@gmail.com. 
MAY I CHANGE THE DEPARTURE DATE AFTER THE TICKETS HAVE BEEN BOUGHT?
Unfortunately the answer is "No". Once the tickets have been bought the government does not allow any changes, so we can't change any departure date after the tickets has been bought. Tickets are also not transferable nor refundable.
*** If you cancel your Machu Picchu Tour, the deposit is not refundable at all!
DO I NEED MY ORIGINAL PASSPORT FOR THE MACHU PICCHU TOUR?
Yes for sure! You have to bring your original passport and it is very important that it is the same passport number you sent to us to book your entrance to Machu Picchu, train ticket, other entrances and reservations. The rangers will check when you enter Machu Picchu. The train company will also check your passport before allowing you to board the train.
In case you are renewing your passport or changing your name, go ahead and send us your old passport information to secure your permit, and we can change it when you get your new passport number or updated your name for a fee of $25 per person.  We must have a copy of your old and new passport to make the change. Before you change your passport keep a copy of your old one.
If you do not wish to pay this fee you will need to bring both passports to Peru with you.  You can enter Peru with your new passport but you will need to show both passports, old and new to be to enter into Machu Picchu or the train.  If you do not have both you will not be allowed to enter into Machu Picchu or get on the train. They are very strict about this here!!
WHAT IS THE WEATHER LIKE IN THE MACHU PICCHU TOUR?
First I would say that the weather is very unpredictable and it's difficult to foresee.  We recommend you to bring a warm jacket for early morning and rain poncho in case of a rain shower.
ARE WE DROPPED AT OUR HOTEL AFTER THE MACHU PICCHU TOUR?
Absolutely! Included in our packages is dropping you off at your hotel on the return from your trek or tour. If you have booked your hotel in the Sacred Valley like Ollantaytambo or Urubamba, we will drop you there too!
If you spend the night at Ollantaytambo before the trek, we wil pick you up there.
TIPPING
If you're happy with the services provided, a tip – though not compulsory – is appropriate. While it may not be customary to you, it's of great significance for the people who will take care of you during the tour.  It inspires excellent service and is an entrenched feature of the tourism industry across many SAM Travel Peru destinations. Of course you are free to tip more or less as you feel, depending on your perception of the quality and the length of your tour. Remember, a tip is not compulsory and should only be given when you receive excellent service.
ARE YOU SUSTAINABLE?
Yes, we are a local sustainable & responsible tourism operator for that we incorporate the universal principles of tourism: protect the environment and benefit the local communities respecting their culture and religion. With this in mind, we have trained all our staff to know, understand and respect the local places and it´s people.
MAP
Packing Checklist
WHAT YOU SHOULD BRING?
A small daypack with water to drink
Snacks if you like
Comfortable shoes or runners
Camera and rain jacket or poncho
A fleece or jacket, basic toiletries
Hat for the sun , sunscreen, insect repellent.
Passport  (Cannot enter Train or Machu Picchu without passport)
ISIC card if appropriate.
Money for souvenirs