Overview
Places You Visit with SAM Travel Peru in Sacred Valley Tour
The viewpoint of the Sacred Valley (Mirador of Taray)
Enjoy and explore the Pisac Inca ruins
Explore the traditional local market of Pisac
A quick stop at Urubamba for lunch (not included)
Visit the Moray Archeological site and the famous Pre-Inca Salt Mines
Visit the entire archeological site of Ollantaytambo and enjoy the amazing views.
No other travel agency except SAM travel visits all of these sites in their Sacred Valley Tour!  
Itinerary
Sacred Valley of the Incas Tour with Moray & the Salt Mines
We will pick you up at your hotel at 7:30am, with our private van and head towards the Sacred Valley of the Incas, taking the direct route to Pisac.  We drive first to the mirador of Taray to enjoy a classic view of the Urubamba valley with crops dressing the mountains like a carpet. Onward, we drive to the archaeological site of Pisac, where you can see the biggest Inca cemetery with more than 2000 tombs. There we can admire the incredible farming terraces carved into the mountain. Here we will spend 1.5  hours approx, exploring the Inca city.
Then we head back to the colorful market of Pisac, spend for about 20m to visit it and then drive to Urumbamba for lunch and on to the Pre-Inca Salt Mines and then to the archeological site of Moray.  After a time to visit the Salt Mines and Moray, we finish our tour in Ollantaytambo.  We explore the archeological site for 1 hour and admire the water fountains, the Sun Temple, the Incahuatana and the impressive storehouses.  Finally, we will return to Cusco, dropping you at your hotel around 6.30pm.
MORAY
The stunning Inca site of Moray is also known as "The Greenhouses of the Incas." Different levels of terraces are carved into a huge bowl, part of which was further excavated by the Incas. The terraces have varied microclimates depending on how deep into the bowl they are placed. It is believed they were used by the Incas to provide the optimal conditions for their crops.
SALT MINES
The Salt Mine (Salineras), close to the colonial town of Maras, are Pre-Inca. Thousands of saltpans have been used for salt extraction since before the Inca era. A hot spring at the top of the valley discharges a small stream of heavily salt laden water, which is diverted into saltpans and evaporated to produce a salt that is now used for human and animal consumption..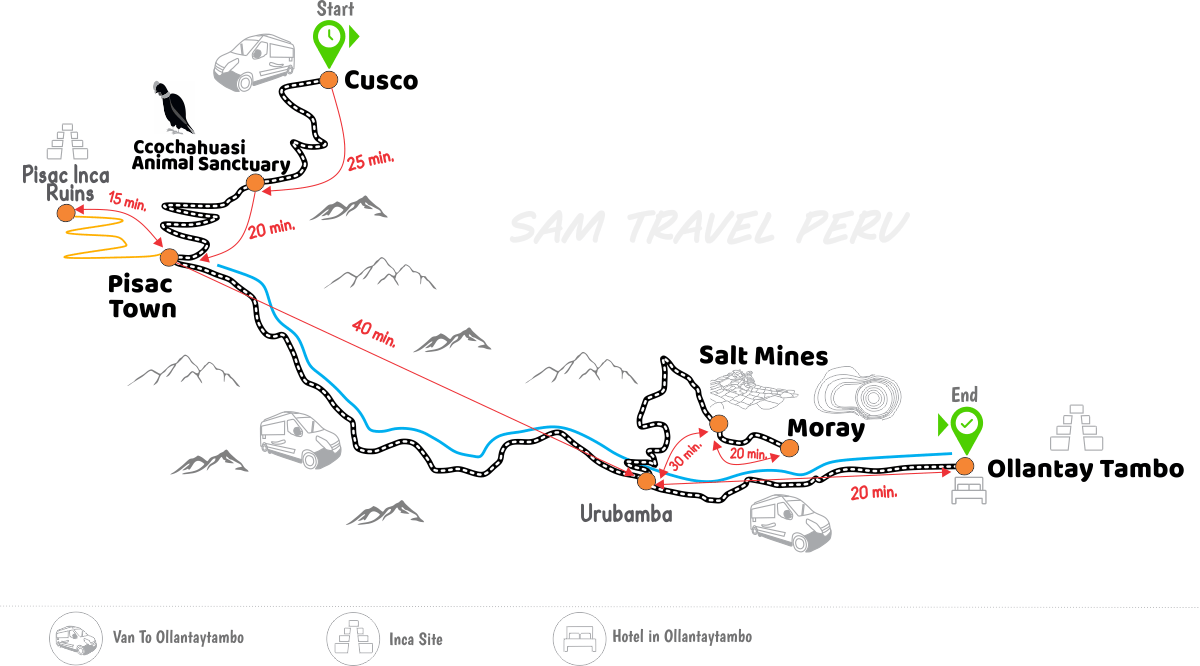 Inclusions
What is Included
Small group up to 10 people
Professional English and knowledgeable speaking guide
Private comfortable transportation
Tax
What is not Included
Entrance tickets to archeological sites:  70 soles (1 day only) or approximately US$22 per person which can only be purchased in soles only at the first archeological site. (See important info for more information)
Meals
Salt Mine entrance 10 soles
Entrance to animal sanctuary 10 soles.
Price
Spend more time at the Inca cities in small or private groups!
GROUP PRICES
# of Persons

Price

Per Person

2 persons
$75 pp
3 persons
$65 pp
4 persons
$55 pp
5 + persons
$45 pp
***Price per person based on the number of persons in the group.  When the group is finalized each person will pay per person based on the size of the final group.  There is no guarantee of how many persons may join except the limit is 10 persons per group.
***Minimum is 2 persons per group to start a group.
PRIVATE GROUP PRICES (Any date)
# of Persons

Price

Per Group

1 to 6 persons
$197
7 to 12 persons
$240
—
—
—
—
—
—
***Private group price is based on group price not per person, and will be completely private with your own guide, chauffeur and private van.  No others will be added to the group.
***Minimum is 1 person but that person will pay $197 for the private group.
EXTRA FEES 
Entrance tickets to archeological sites:  70 soles or approximaely US$22 per person which can only be purchased in soles at the first archeological site. (See important info for more information)
Salt Mine entrance of 10 soles
Animal Sancturary 10 soles entrance
Why SAM
WHY CHOOSE SAM TRAVEL FOR THE SACRED VALLEY TOUR?
SAM Travel Peru is a family-owned travel agency and a local tour operator based in Cusco with personal experience over many years of trekking. SAM Travel Peru is a 1oo% Cusquenian Company without any shareholders.
 Our dream as a locally based company is to create small personalized tours & treks strictly and only operated by local professional staff catering in PERSONALIZED and HIGH-QUALITY SERVICE.  
We take pride in having a reputation as being a RESPONSIBLE & SUSTAINABLE tour operator. Our staff are our extended family. We ensure they are supported financially by offering them a fair salary. We are proud of our team without them , we wouldn't be able to offer the best service and lifetime experiences to our clients.
SAM Travel Peru knows how important it is to trust in a reliable honest operator to create your adventure of a lifetime while in Peru. Check out our reviews and certificates of excellence on, TRIPADVISOR for yourself! Also we are highly recommended on Conde Nast Travelers,  Lonely Planet and by many blogs like: Salkantay/Inka Trail ! July 14th to 20th 2016  Trek de Lares 4 hours, "It's the journey, not the destination…", Lares Pass – Day 3, Trekking in the Sacred Valley, Alli and Ellie hike to Machu Picchu
SMALL GROUPS
In an effort to provide a more personalized service to our passengers, we at SAM Travel Peru  have a policy to keep our groups small.  With private tours we do 1 to 6 person and a larger group of 7 to 12 if requested.  By keeping our groups small, this sets us apart from other companies that operate departures with much larger groups.
OUR TOP TOUR GUIDES
We are proud of our guides! Highly professional, speaking fluent English, very knowledgeable and passionate for Incan heritage and history.  Our guides are dedicated to steady personal development, learning to ensure that you receive accurately and recognized theories in Incan and Andean culture. Fun loving, great sportsmen and well – educated crew, as well as, holding degrees in one of the following: Archaeology, Tourism, Botany, History or Anthropology.
OUR SOCIAL PROJECTS
SAM Travel Peru have always believed that we should "give back" to the local isolated communities.  Therefore, as part of our commitment to responsible tourism, we always do many social projects and hire locally.
SAM Travel Peru is so proud to be able to support these people, not only employing them but go back to our grassroots as they share with their families. It makes us happy to have this holistic approach with our highland employees and their families!
Important Info
BOLETO TURISTICO (tourist ticket )
You have the Option to Purchase a 1 Day or a 10 Day Boleto Turistico. 
The partial ticket, or 1 Day ticket costs 70 soles (US $20) and is valid for 1 day.  You can visit a many sites as you like in one day with no further charge.  There are no discounts with this ticket.
Both tourist tickets, of 1 day or 10 day, allows the access to different archeological sites around Cusco, and Sacred Valley Tour.  This is the best way to visit all the archeological sites of the region and the Sacred Valley. Most of the main archeological sites are not accessible for free.
The general ticket allows you over the next 10 days to enter 16 archeological and cultural sites in Cusco, the south valley and the Sacred Valley tour. The price of this ticket is 130 soles (about US $40) and is valid for 10 days. This is the cheapest and most convenient way to plan to see different sites in a few days. The cost for students under 25 (with the presentation of a valid ISIC card) and for teenagers under 18 (with the presentation of an identity card) is 70 soles (US $20). Children under 11 are free.
Here is a list of sites where you can use your Boleto Touristico:
Sacsayhuaman
Qenqo
Pucapucara
Tambomachay
Pisaq
Ollantaytambo
Chinchero
Moray
Tipon
Piquillaqta
Note : The entrance ticket  to the main archeological sites like Sacsayhuaman, Pisac, Ollantaytambo,Chinchero,Tipón and Moray cannot be sold individually; you must buy the Boleto turístico to visit them. You can get it in Avenida el Sol nearby Peru office or at the time you enter the first site that you are visiting.  YOU MUST PAY IN SOLES, NO CREDIT CARD OR US DOLLARS ARE ACCEPTED. 
Important: These entrances are not included in the Boleto Touristico.  
The entrance to Qoricancha or Santo Domingo Convent (15 soles)
The entrance to the Cathedral (25 soles)
MAP
What to Bring
WHAT TO BRING FOR THE SACRED VALLEY TOUR?
Warm jacket
Hat
Water
Sun protection
Some money for souvenirs
Money in soles to purchase boleto touristico y entrance to salt mine
Original passport
If you are a student, take your ISIC card (only works for the 10 day boleto touristico)
Summary
Author Rating
Brand Name
Product Name
Price
Product Availability