If you are keen for a challenge, Sam Travel Peru has the Choquequirao trek, that will exhilarate your senses and challenge you to the core physically and mentally. Be prepared for the remoteness and inaccessibility of this Inca City ruin that is located at (3,050m/10,006ft) above sea level in the province of La Convencion. The twin city to Machu Picchu but 3 times larger yet purely untouched and recluse. Although not as quite impressive as Machu Picchu, it has a very similar structure and architecture. A new adventure that you definitely must visit.
The Choquequirao trek to Machu Picchu – a quiet, unpaved dirt trail challenging – yet mesmerizing in beauty, daringly adventurous – that provides a unique alternative to the busy Inca Trail. The trekker's port hole of opportunity to visit both Choquequirao and Machu Picchu.
For those serious hikerswho dare to enter the untamed nature trail of the Choquequirao trek, it can be completed as a stand alone hike not requiring a permit.
Discover the Lost City of the Incas, which is 3X´s larger than Machu Picchu.
Hike Andean landscapes with majestic glaciers mountains and views of the valleys below.
Delight in the abundance of native flora, orchids, and other rare flora.
Wonder at the flight of the majestic condor and other native animals.
Get off the beaten Track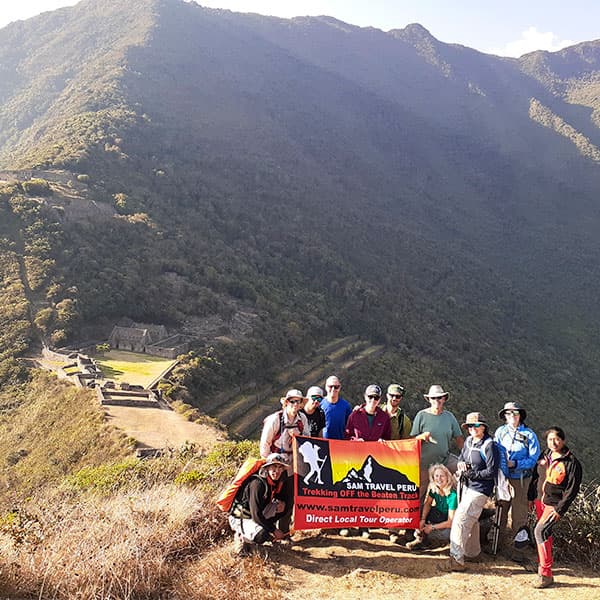 Choquequirao Inca Ruins
Choquequirao, meaning Cradle of Gold, was the control gate between the Amazon and the city of Cusco. An Incan City built during the late 15th and early 16th century. Choquequirao is filled with ruins, its buildings and terraces tuck in below a flattened hilltop, levelled several hundred years ago, and circumferenced with stones to create a platform. Built as a cultural and religious center, it still stands tall in high status exposing the number of niches and double doorways that once overflowed in stature. Choquequirao is located above the valley of Apurímac river, 98kms/61mls from Cusco and in the Willkabamba mountain range, covers an area of 6 square kms.
We are the only company who take you to the hot spring of CONOC after the long hike and even explore the unique Inca ruins of Saywite. We are specialists in this amazing route and offer the most frequent departures with experienced and professional guides. Check out all of our options to discover why.
See the tours below with detailed itineraries and alternative trek information on our ChoquequiraoTreks. Here are the links to the Alternative Choquequirao Treks:
Tour To Choquequirao Trek