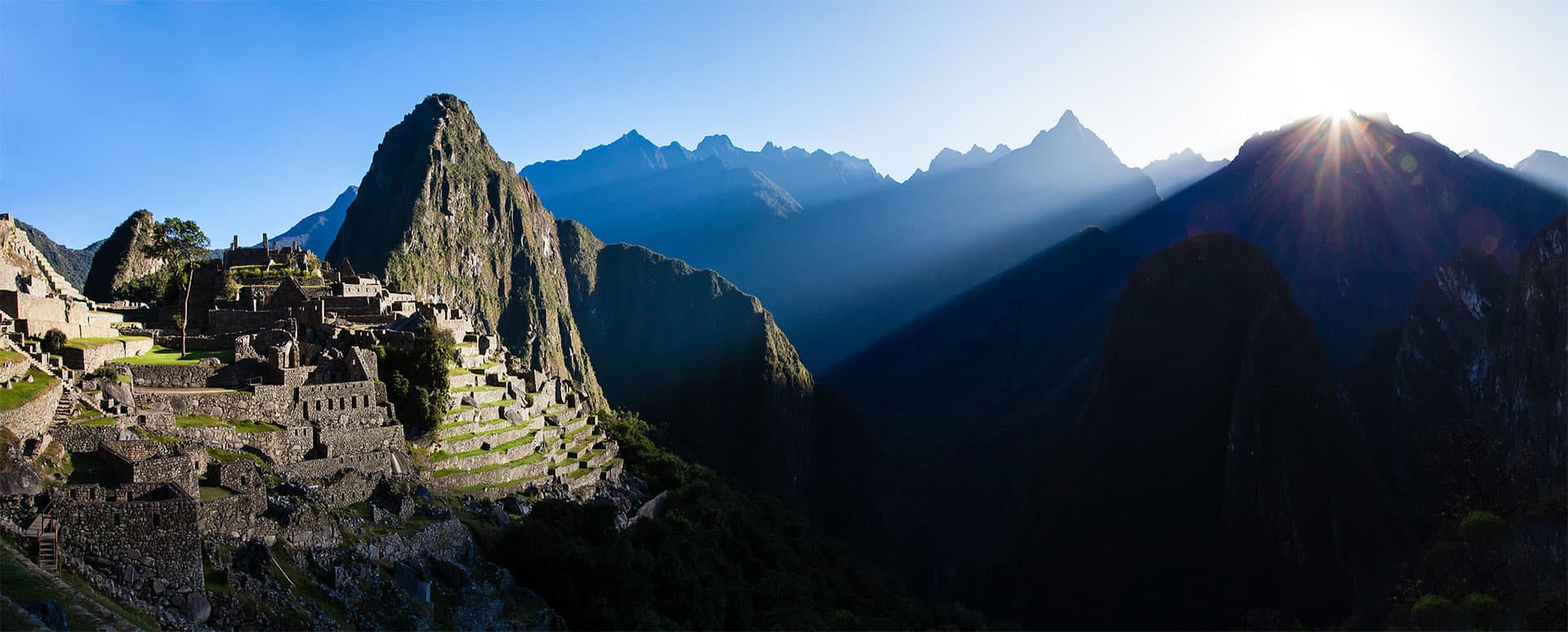 A Wide Selection of Peruvian Tour Packages to Machu Picchu
Peru has a number of breathtaking natural and cultural attractions, with Machu Picchu being the best-known. This UNESCO World Heritage Site showcases these well-preserved, but mysterious, Incan ruins.
If you're interested in discovering the sacred grounds of Machu Picchu, join a Sam Travel Peru tour. We offer all-inclusive holiday packages to Machu Picchu and other areas of the country. One of our Machu Picchu vacation packages starts in Cusco or Sacred Valley before continuing onto the actual Incan ruins.
Why Visit Machu Picchu?
This 550-year old citadel is certain to impress tourists, solo travelers and any true adventurer. You won't regret adding this to your travel bucket list. Here's why:
Magnificent Sights —The view from Machu Picchu will surely make your jaw drop in astonishment. You'll be amazed by the apus (sacred peaks in Quechua) surrounding the famous ruins.
Fascinating Culture — On top of enjoying the beauty of the site, you'll marvel at the brilliance of the Incan culture. You'll spend days learning about how the Incas lived during their time.
Incredible Architecture — The engineering precision and genius of the Incas are simply mind-blowing. They used ashlar, a building technique in which they cut stone blocks to fit together tightly. This technique is a testament to the site's structural integrity.
Bragging Rights —Travelers see Machu Picchu as a holy grail of backpacker destinations. Once you visit this site, you'll never stop promoting this incredible place to your friends and family.
With all that this ruin has to offer, it's easy to understand why so many visit Peru's heartland. You, too, can see this magnificent Incan landmark for yourself by booking one of our Machu Picchu tour packages. Call (347) 480-1609 for more details.
HIGHLIGHTS OF ALL INCLUSIVE TOUR PACKAGES MACHU PICCHU
SAM Travel Peru is a specialist in adventure all-inclusive tour and trek packages.
We design our tour packages to provide the best possible tour experience in Cusco, Sacred Valley, Machu Picchu and more.
Enjoy either private or semi-private groups in small groups 2 to 6 persons, maximum of 8.
Our tours to Machu Picchu or all inclusive tour packages are priced with or without hotels.
We customize our Peru tour packages to meet our client's desires and needs.
We also create customized Machu Picchu tour packages, just let us know what you want to do and see!
Join the thousands of satisfied customers who rate us #1 on TripAdvisor
SAM TRAVEL REALLY CARES ABOUT THEIR CLIENTS
, TEAM, LOCAL COMMUNITIES & PLANET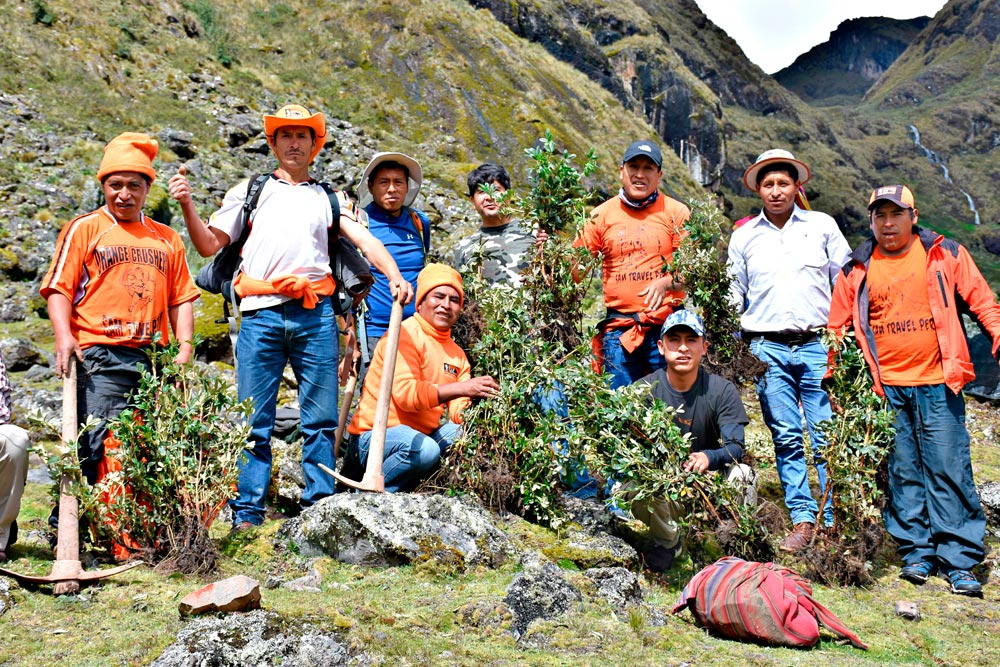 Tree Planting Project
SAM Travel Peru is a socially responsible tour operator concerned about the environment. Our Plant A Tree campaign creates awareness to local communities and the citizens of the city of Cusco that deforestation issue in the Andes Mountains is a serious one. As each year, many mountain slopes are void of trees and that causes a huge decline in the wildlife.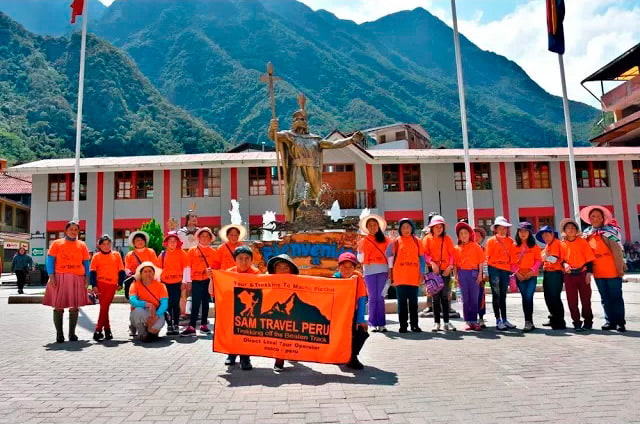 Dreams Come True For Student
December of 2017, SAM Travel Peru fulfilled the dreams of 36 children and their parents from the indigenous community of Pampamarca way up in the Andean mountains in the south of Cusco. They got to tour Cusco City, Sacred Valley and the Citadel of Machu Picchu all paid for by SAM Travel Peru. These are children do not have the resources nor ability for many reasons to be able to experience the historical sites of their Inca heritage. Sam Travel Peru wants to give them a once in a lifetime experience up close and in person of their heritage and restore their pride in their culture, history and Inca heritage.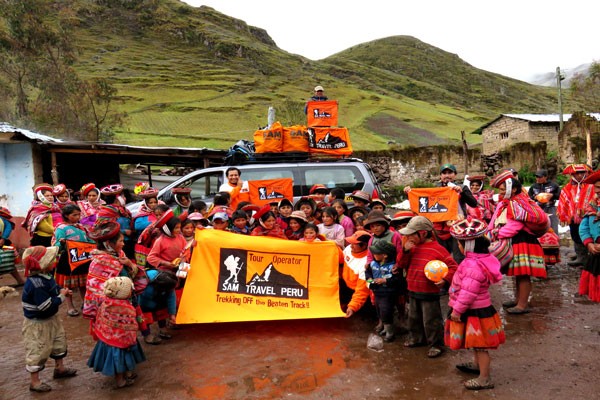 Our Christmas Party In The Andes
We kick off our annual Christmas social project focused on helping communities surrounding the imperial city of Cusco and the Sacred Valley. We journeyed towards the community of Pacchanta, located within the district of Ocongate (home to Ausangate Mountain). This quaint and isolated community is home to about 400 people or so. SAM Travel Peru was able to complete this project successfully with the help of its dedicated team members!