DAY 1: CUSCO CITY TOUR
Upon your arrival to Cusco, you will be welcomed by our representative and transferred to your hotel. There, you will receive a short briefing and the rest of the morning enjoying some leisure time to rest and acclimatize to the altitude.
In the afternoon at 1pm, we will pick you up at your hotel and we will begin your tour of the Imperial Cusco City, a living example of the mix of Andean and Spanish cultures. Then,we continue our journey visiting the Santo Domingo Convent built over the Temple of the Sun (Koricancha), as well as the Ancient Inca Palace and the main worship center of the Sun God. We proceed to visit the archaeological site of Sacsayhuaman, which dominates the city. Finally, we go to the fascinating ruins of Qenqo, Puca Pucará and Tambomachay, located in the north east of the city. Afterwards we take you back to your hotel in early evening.
5* Accommodation: Aranwa Hotel
Day 2: Sacred Valley tour – Pisac – Moray – Maras Salineras
We start this beautiful day at 7:30am, when your guide picks you up at your Cusco hotel in our private van. Our route to the Sacred Valley of the Incas leads us towards Pisac. We stop first at the Mirador of Taray to enjoy an expansive view of the Urubamba valley and its traditional farming villages. You will see how the agriculture in the Sacred Valley has changed little in the past five hundred years. Onward, we drive to the archeological site of Pisac, where you can see an impressive Inca cemetery with more than 2,000 tombs. There, we can admire the carefully engineered farming terraces carved into the mountain, explore the Inca tunnel and the religious area of this important citadel. Here, we will spend about 2 hours, exploring the Inca city. Then, we head down to the colorful market of Pisac, spend about 20 minutes visiting it and then drive to Urubamba for lunch.
Our next stop is the archeological site of Moray also known as "The Greenhouse of the Incas" a deep basin of architectural wonder. Levels of terraces are carved into a huge bowl, which was carefully engineered by the Incas. The terraces have varied microclimates depending on how deep into the bowl they are placed. Archeologists believe that they were used by the Incas to discover the optimal growing conditions for their crops and experiment in hybridization.
Continuing on our journey to the colonial town of Maras, we look down onto the pre-Inca salt "mines," called salineras in Spanish. Thousands of salt pans have been passed down through countless generations and used for salt extraction since before Inca times. A hot spring at the top of the valley discharges a small stream of heavily salt laden water, which is diverted into salt pans and evaporated to produce salt. This is one of the few places in the world where you can find naturally pink salt!
Finally, we drive to our hotel in the Sacred Valley; Aranwa Hotel
5* Accommodations: ARANWA HOTEL.
Day 3: CUSCO – KM 82 – HATUNCHACA – WAYLLABAMBA – AYAPATA
Today begins your adventure of a lifetime with the Classic Inca Trail! Your guide will pick you up from your Cusco hotel in our private van at 4:30am. From there, we travel to Piskacucho, which is known as Kilometer 82, where the Classic Inca Trail begins. Along the way, we stop for breakfast in Ollantaytambo at about 6:30-7:00 to load up on energy for our first big day. (Breakfast is not included)
Arriving at KM82 (8:30am), we will have some time to organize ourselves, use the restrooms, apply sunscreen, insect repellent, etc. Here you will give your duffel bag to the porters, keeping only a small daypack with the essentials you need during the hike. Check our packing list for more information. Once at the Inca Trail checkpoint, be ready to show your passports and your student ID card, if you booked as a student. Your guide will have all of your permits and tickets.
At the start of the trail (2,720m/8,923ft) you will cross the Vilcanota River and follow its scenic route. The first day is relatively easy, a warm-up along the rolling 'Inca flat' terrain. There are great views of the Inca Fortress of Huillca Raccay, the vast and incredible Inca site of Llactapata, (also called Patallacta), the Urubamba mountain range that divides the jungle, the Andes Mountains, and the beautiful snow-capped peak of Veronica (5,860m/19,225ft), also known as W'akay Willca. You stop for your first gourmet lunch at Hatunchaca, after which you only have about three hours of walking to camp.
Our first campsite is about 2 hours past the small village of Wayllabamba (3,000m/9,842ft) located in the temperate green valley of the same name. Temperatures at night can be as low as 5ºC, depending on the season. It is generally colder in the dry season from May to September.
When you arrive at camp, your afternoon tea and appetizers will be ready for you. Enjoy a hot drink and settle into your tents, which will already be set up for you.
Meals included: Breakfast, Lunch, snacks, afternoon tea and dinner
Accommodation: Camping facilities
Distance: 12kms/7.5mls (about 6 hours hiking)
Difficulty: Easy/Moderate

Day 4: AYAPATA – DEAD WOMAN'S PASS – PACAYMAYU – CH'AQUI QQOCHA
Your guide will wake you up with a hot mug of tea or coffee at 5:30am. Enjoy your hot drink in your sleeping bag before getting up for a delicious and hearty breakfast. With your daypacks as light as possible, you start a steep ascent towards the highest pass, Abra de Warmihuañusca, also known as Dead Woman's Pass at (4,200m/13,779ft). On this day, you will feel a real sense of achievement upon reaching the top! After a well-deserved break for photos, you begin the descent towards your lunch spot, which is located at Pacaymayu (3,550m/11,646ft).
On your way up towards the pass, you will see an array of hummingbirds and a variety of other species of birds. There will be plenty of time to appreciate the incredible variety of native plants and the Polylepis, or Q'ueuña trees, which grow in the astonishing cloud forest located at (3,650m/11,972ft)!
After a gourmet lunch, you begin the second two-hour steep climb towards Runkuraqay pass (4,000m/13,123ft). You arrive at your campsite by 5 pm, where your afternoon tea and appetizers are waiting for you. Temperatures at this campsite are around 4ºC during the night.
Meals included: Breakfast, lunch, snacks, afternoon tea and dinner
Accommodation: Glamping facilities
Distance: 16kms/10mls (about 9 hours hiking)
Difficulty: Moderate/challenging

Day 5: CH'AQUI QQOCHA – PHUYUPATAMARCA – WIÑAY WAYNA
This is the most impressive day so far, so keep this in mind as you ascend on day three! Your guide will wake you up at 6am with another hot mug of tea or coffee in your tent before you get up for breakfast. You start the day with a gentle climb towards the archaeological site of Phuyupatamarca, which means 'Village in the Clouds'. Here, we reach the third highest point along the Inca trail (3,680m/12,073ft). The views of the mountains, canyons and surrounding areas are spectacular!
The extensive Inca site of Phuyupatamarca, is located a few minutes' walk from the third pass. After visiting this site, you continue walking down 3,000 stairs through the cloud forest to the impressive Inca site of Intipata. As you descend from the mountains, you will feel the temperature rise. You are approaching not only Machu Picchu, but also the beginning of the Amazon jungle! After taking some time to visit Intipata, you continue to your third campsite Wiñay Wayna (2,680m/8,792ft). Today, you will only walk about 4 to 5 hours. You will arrive at camp by lunchtime! Temperatures during the night are about 12º C.
A short walk from your campsite is the famous Inca site of Wiñay Wayna which means "Forever Young" in Quechua. It is named after a special orchid which grows abundantly in the area.
Meals included: Breakfast, lunch, snacks, afternoon tea and dinner
Accommodation: Glamping facilities
Distance: 10kms/6.2mls (about 5 hours hiking)
Difficulty: Moderate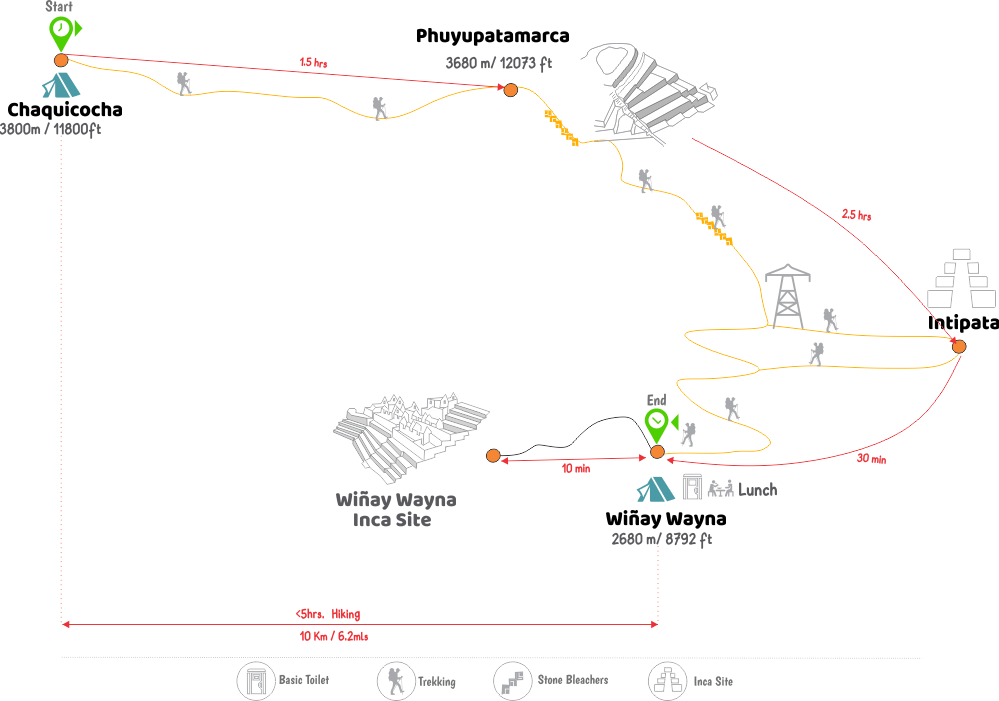 Day 6: WIÑAY WAYNA – MACHU PICCHU – CUSCO
At around 4:00am, it is time to wake up with another hot drink and start day 4 on the Inca Trail. This is the final part of your journey, and you arrive by 6:00am at the Sun Gate, also known as Inti Punku. At that point, the majestic Machu Picchu Citadel will be in front of you with its mystic beauty – an incredible sight for all to see. At the Sun Gate, you will watch sunlight spreading down over the citadel like melting goal, as the sun rises behind you. Finally, we walk downhill towards Machu Picchu Citadel (2,400m/7,872 ft.). After walking about 40 minutes, we enter the citadel from the top through the "House of the Guardians". From there, we proceed towards the control point, where we register and leave any large backpacks or walking poles. You are only allowed to take small bags into the citadel, such as camera bags. Walking poles are not allowed because they can damage the stones.
Your guide will give you the full tour, which takes about two hours. You will see all of the most important parts of Machu Picchu, including the Temple of the Sun, Temple of the Condor, Temple of Three Windows, Sun Dial, Quarry, and the House of the Inca. You will also learn about how Machu Picchu is divided into three sectors: agricultural, residential, and religious.
After your tour, those who have booked in advance for the extra hikes up Huayna Picchu or Machu Picchu Mountain will have time to enjoy those views on their own. When you have had your fill of the exceptional views of Machu Picchu, you will take the bus back down to Aguas Calientes for lunch (not included). Depending on your train departure time, you may also have time for some shopping, sightseeing or a visit to the museum or hot springs.
The train will take you back to Ollantaytambo, following the spectacular Urubamba River. Close to Aguas Calientes, the canyon is narrow and the river has many beautiful sections of whitewater. You can also see Wiñay Wayna from the train if you look up high on the steep canyon wall! Back at Ollantaytambo, your driver will meet you at the exit from the train station to take you back to your hotel in Cusco in our private vehicle. You can expect to arrive at your hotel by 19:00.
Meals included: Breakfast
Distance: 6kms/3.7mls
Difficulty: Easy
Accomadation: Aranwa Hotel
*** The Huayna Picchu Hike the Machu Picchu Mountain Hike depends on availability, please let us know if you want to add one of these extra hikes at the time of your booking.

Day 7: Cusco – Day off.
Day off to rest and enjoy Cusco.
Accomadation: Aranwa Hotel
DAY 8: CUSCO – RAINBOW MOUNTAIN – CUSCO
We will pick you up from your hotel at 4am, and begin with our amazing Rainbow Mountain Trek Adventure. We set out on our drive for 3 hours through the South Valley, ending up at the trailhead at Llacto (4,638m / 15,216 ft). Along the way, there are amazing views of farming Inca terraces, traditional villages, valleys and high Andean peaks.
The herds of alpacas and llamas near your breakfast place will entertain you in the early morning. Once we reach the trailhead, we start on our hike following a lovely stream. As you start your hike, you will have views of the Ausangate Mountain and glaciers. You can interact with the local people, who are still keeping traditional Quechua culture alive.Learn about their traditional clothes and the significance of the different hats worn by the men. Ask your guide to teach you a few words of Quechua!
After a total hike of 1.5 hours, we finally reach our destination the Rainbow Mountain. After admiring the unique beauty, you will have time to explore the area. You can take pictures or just soak up the view. We will spend approximately 30 minutes at the top. Afterwards, there is an optional hike across to the top of the Red Valley. This walk takes about 45 minutes longer to get back to the trailhead.
At this point, we hike back down the way we came. The hike takes 1 hour, then we enjoy our lunch which will prepare by our cook.
We will embark on the 3-hour drive back to Cusco and drop you off at your Cusco hotel, arriving around 6:30pm.
Meals included: hot breakfast & lunch
Accomadation: Aranwa Hotel in Cusco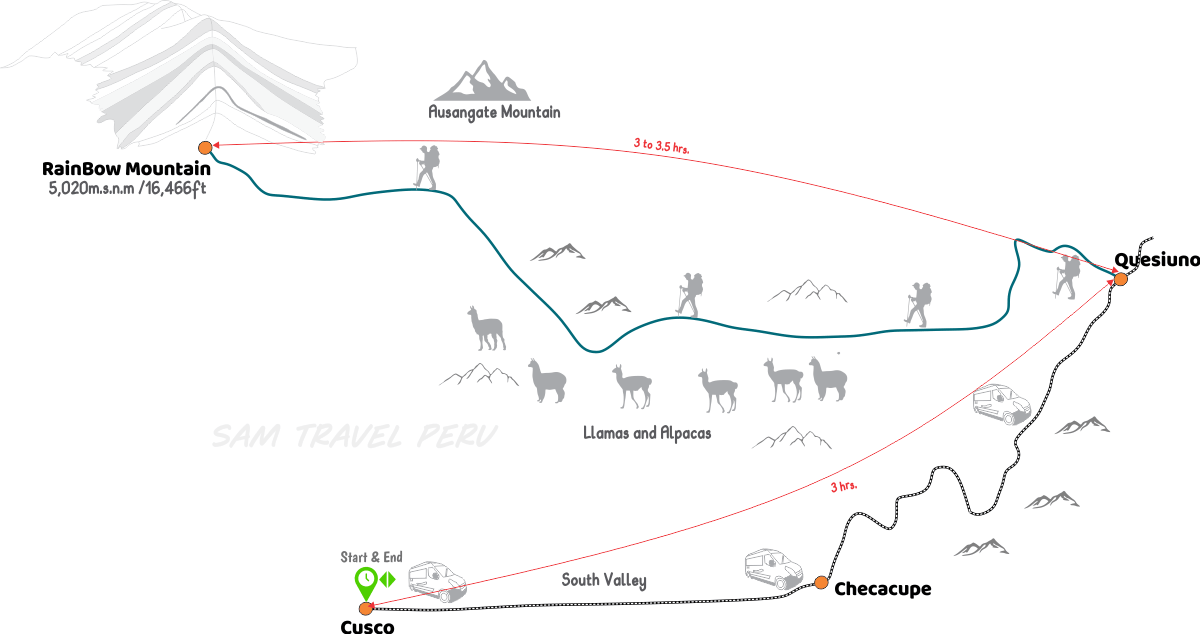 Day 9: TRANSFER BACK TO AIRPORT.
At any time, we will take you back to airport.
WHAT IS INCLUDED FOR THE LUXURY INCA TRAIL PACKAGE?
A hand-crafted and fully personalized Premium Package from start to finish.
Professional knowledgable english-speaking
Specialized massage therapists (Only in the 4 days Inca Trail)
03 nights of ultra-luxury camping.
All entrance fees and permits required.
Vistadome train ticket for the return
All meals cooked on the spot by our well-trained chef with fresh ingredients (B: Breakfast, L: Lunch, D: Dinner).
Separated private transportation for our staff members and camping equipment.
Private Chef, chef assistant and waiter
Fully trained porters hailing from local communities to carry the main luggage (all the equipment and cooking stock)
Private extra porter for your personal stuff (10 kg/22.1 lb. total) including your sleeping bag and mattress (03 kg/6.6 lb)
Duffle bags for your belongings
Bedroom tent: Eureka Copper Canyon (maximum of triple use). It is vital that you inform us in advance about your rooming list distribution.
Sleeping bags, cotton sheets, blankets, pillows, cotton and silk robes.
Dining tent and chairs: Eureka Copper Canyon, Kingcamp KC 2808 chairs.
Porcelain or ceramic crockery, glassware and unique stone or wood plates.
Hot Shower Tent: Light Speed including cotton towels for body, face and hands.
Portable chemical toilet: Cleanwaste toilet system and toiletries.
First aid kit and oxygen bottle.
All the required Peruvian taxes
WHAT IS NOT INCLUDED FOR THE LUXURY INCA TRAIL PACKAGE?
Extra transportation required along the trek due to unforeseen circumstances.
Meals not mentioned.
Personal expenses.
Travel Insurance (highly recommended)
Hotel
Flight tickest.
**Huayna Picchu and Machu Picchu Mountain are optional treks within Machu Picchu Citadel which do not include a guide. The climb is usually done on your own after your tour of Machu Picchu Citadel. If you would like the extra hike to be guided, please request in advance. There is an extra cost for this extra guided tour.
***This unique GLAMPING INCA TRAIL PACKAGE can leave on any date, as long as we have a minimum of 2 participants.
PRICES:
***All entrance fees are included and we operate our tours in small groups averaging 5 persons with a maximum of 8!
***Private service is available for an extra $500 per person
EXTRAS
Sleeping bag (minus 8 ºC) -$20 USD
Air Mattress -$20 USD
Walking Poles -$15 USD
Machu Picchu Mountain -$75 USD
Huayna Picchu Mt –$75 USD
Personal tent: $40 USD for solo trekkers
Hotel single supplement: $60 USD per night 3*(for solo travelers with single room)
Hotel single supplement: $100 USD per night 4*(for solo travelers with single room)
Upgrade to 4 or 5 star hotels
**Huayna Picchu and Machu Picchu Mountain are optional treks within Machu Picchu Citadel which do not include a guide. The climb is usually done on your own after your tour of Machu Picchu Citadel. If you would like the extra hike to be guided, please request in advance. There is an extra cost for this extra guided tour.
ADDED VALUES FOR FREE
Transfer – from the Airport to Hotel (Cusco Only)
Duffle bag – included in the trekking price
Extra pack horse is included in the price, the pack horse will carry your belongings up to 7 kgs /14p like sleeping bag, mattress, clothes etc
Boiled water is included along the Inca Trail
Oxygen tank will be available along the trek
Emergency horse is included in the price which can be ridden if you get tired or sick
Camping pillow
Plastic rain poncho made by SAM Travel Peru is included
BEST ITINERARY operated by Lares trek & 2 day Inca Trail Package specialist only
WHY CHOOSE SAM TRAVEL?
SAM Travel Peru is a family owned travel agency and a local tour operator based in Cusco with personal experience over many years of trekking. SAM Travel Peru is a 100% Cusqueñian Company without any shareholders.
Our dream as a locally based company is to create small personalized tours & treks strictly and only operated by local professional staff catering in PERSONALIZED and HIGH QUALITY SERVICE.
We take pride in our reputation as a RESPONSIBLE & SUSTAINABLE tour operator. Our staff are our extended family. We ensure they are supported financially by offering them a fair salary. We are proud of our team without them , we wouldn't be able to offer the best service and lifetime experiences to our clients.
SAM Travel Peru knows how important it is to trust in a reliable honest operator to create your adventure of a lifetime while in Peru. Check out our reviews and certificates of excellence on, TRIPADVISOR for yourself! Also we are highly recommended on Conde Nast Travelers, Lonely Planet and by many blogs like: Salkantay/Inka Trail ! July 14th to 20th 2016 Trek de Lares 4 hours, "It's the journey, not the destination…", Lares Pass – Day 3, Trekking in the Sacred Valley.
SMALL GROUPS
To ensure a more personalized service for our guests, at SAM Travel Peru we have a policy that our groups will not exceed 8 people. This fact alone sets us apart from other companies that operate departures with bigger groups.
OUR TOP TOUR GUIDES
We are so proud of our guides! They are highly professional and speak fluent English. They are very knowledgeable and passionate for Inca heritage and history. Our guides are dedicated to continuous personal and professional development. They do research to ensure that you receive accurate and recognized theories in Inca and Andean culture. Our crew is fun loving, great sports and well-educated. They all hold degrees in one of the following: Archaeology, Tourism, Botany, History or Anthropology.
OUR COOKS
The food on the trek has been highlighted by all our clients as delicious and abundant gourmet style meals. Peruvian and International Cuisine are prepared by our professional and dedicated cooks from a mixture of local and exotic produce. If you have any diet restrictions or have food allergies of any kind, we can cater to your needs.
OUR SERVICE PROJECTS
SAM Travel Peru has always believed that we should give back to the communities we pass through when on our treks. Therefore, as part of our commitment to responsible tourism, we always do many service projects and hire locally.
SAM Travel Peru is so proud to be able to support these beautiful people, not only employing them work but also to keep things at grassroots, to share in their homes and with their families. This makes us happy to have this holistic approach with our highland employees and their families!
Please read carefully the following information as it will help with your questions about our services and the Lares trek & 2 day Inca Trail Package
ARRIVAL TO CUSCO
You will be greeted at Cusco airport and taken to your hotel, please ensure that you inform us of your full flight details at least 14 days prior to trek´s start. Look out for our representative holding an orange board of SAM Travel Peru at the arrival terminal.
THE BRIEFING
Your briefing will take place the night before your tour. It will be held at our office at 6 or 6:30pm, depending on your confirmation email details. The office is located at Calle Santa Teresa Nº383 ; office 107 (second floor). We are next to Subway sandwich shop and share a lobby with Hotel Casona Corrales.
CAN I STORE MY LUGGAGE AT YOUR OFFICE?
Of course! During the Lares trek Machu Picchu your main luggage can be stored at our office or at your hotel, both are for free.
HOW TO BOOK
FIRST, to book your Lares trek & 2 day Inca Trail Package, we need you to fill out our booking form by clicking on BOOK NOW on our homepage or click here the link BOOK NOW.
Please be ready with the following information (FROM EACH PARTICIPANT in your group). We cannot purchase the Lares trek & 2 day Inca Trail Package permits and entrances without the following information:
Personal information (your full name, exactly as on your passport):
Gender
Passport number
D.OB. (dd / mm / yyyy)
Nationality
SECOND, we require a deposit of $211.00 USD per person in order to purchase a permit for the Lares Trek + Short Inca Trail. You can make you deposit by clicking on the VISA or PAYPAL symbols on the top of our home page, or you can click on the VISA or PAYPAL symbols on our booking page.
WHAT ABOUT THE BALANCE?
If you would like to avoid the high credit card fees in Peru, you may pay in cash at our office (US dollars or Peruvian soles) here in Cusco. There are many ATMS within the historical center to withdraw money. You can also pay by VISA or PAYPAL online but you will have to pay a 5.5% service fee, charged by VISA and PAYPAL. To pay your balance through PAYPAL, you need to log into your PAYPAL account and use our email address: samtravelperu@gmail.com.
MAY I CHANGE THE DEPARTURE DATE AFTER THE TICKETS HAVE BEEN BOUGHT?
Unfortunately the answer is No. Once the tickets have been bought the government does not allow any changes, so we can't change any departure dates. Permits and entrance tickets are not transferable nor refundable. If you cancel your Lares trek & 2 day Inca Trail Package, the deposit is not refundable at all!
DO I NEED MY ORIGINAL PASSPORT?
Yes! You have to bring your original passport and it is very important that it is the same passport number you sent to us to book your Lares trek & 2 day Inca Trail Package, permit, entrances and reservations. In case you are renewing your passport or changing your name, go ahead and send us your old passport information to secure your permit, and we can change it when you get your new passport number or updated your name for a fee of $25 USD per person. We must have a copy of your old and new passport to make the change.
If you do not wish to pay this fee you will need to bring both passports to Peru with you. You can enter Peru with your new passport but you will need to show both passports, old and new to be to enter the Inca Trail, Machu Picchu or the train. If you do not have both you will not be allowed to enter the Inca Trail, Machu Picchu or get on the train.
WHAT IS THE WEATHER LIKE?
The weather is very unpredictable and it's difficult to foresee. We recommend to always dress in layers as it is more easier to adjust to the different climates.
WHAT ABOUT ALTITUDE SICKNESS?
In general, if you exercise regularly and spend a couple of days in Cusco or the Sacred Valley, you will be able to acclimate normally. It usually take between 24 hours to 2 days.
The recommended remedies for altitude sickness is WATER, COCA TEA and OXYGEN IF NEEDED; our guides are trained to treat you for Altitude Sickness. For more detailed information on Altitude Sickness click this link: Altitude Sickness.
IS THE TREK DIFFICULT, DO I NEED TO BE FIT?
The Lares trek + Short Inca Trail is a 39 km hike through the Andes in the Cusco region. The maximum altitude reached is (4,700m/15,419ft). The Trail is a fairly difficult trek and you should be well prepared and healthy prior to starting it. You have to be moderately fit and take regular exercise.
In preparation: try walking 15kms a day or go to the fitness club in the months leading up to the trek. It is also important to be well acclimatized to the altitude. Try to spend at least 2 or 3 days in Cusco (3,350m/11,047ft) prior to starting the trek.
WHAT HAPPENS IF I AM UNABLE TO FINISH?
In the unlikely scenario that you are unable to finish the Lares trek & 2 day Inca Trail Package due to a health issue, Sam Travel Peru will assist you to the nearest town for help with transportation. We always carry oxygen on the trek for any respiratory problems In extreme cases, a helicopter pick up can be arranged at your own expense. (Travel insurance required). There are no refunds in the unlikely situation that you are unable to finish the trek.
Generally those who have to be assisted off the trail are taken to Ollantaytambo and if they recover quickly, they then continue the journey to Aguas Calientes (cost incurred by trekker) and visit Machu Picchu according to original plan.
TIPPING
If you're happy with the services provided, a tip – though not compulsory – is appreciated. While it may not be customary in your country, it's of great significance for the people who will take care of you during the tour. It inspires excellent service and is an entrenched feature of the tourism industry across many SAM Travel Peru destinations. Of course you are free to tip as much as you feel appropriate, depending on your perception of the quality and the length of your tour. Remember, a tip is not compulsory and should only be given when you receive excellent service.
ARE WE SUSTAINABLE?
Yes, we are a local, sustainable & responsible tourism operator for that we incorporate the universal principles of tourism: protect the environment and benefit the local communities by respecting their culture and religion. With this in mind, we have trained all our local staff to know and understand, respect the places and the local people.
WHAT YOU HAVE TO TAKE WITH YOU
Original Passport (it has to be the same you have used for booking your trek)
Valid university card (if you booked as a student)
Good daypack (the smaller, the better)
Water storage: 2-3L (Camelbaks are encouraged)
Comfortable hiking boots with ankle support
Sleeping bag (can be rented from SAM Travel)
Headlamp: essential
Toilet paper
WHAT TO PUT IN YOUR DUFFEL BAG FOR THE LARES TREK & 2 DAY INCA TRAIL PACKAGE
As a Direct Local Tour operator we provide you with a duffel bag at your briefing and INCLUDE an extra porter who will carry up to 7 kgs or 14 pounds including your 2.5kg sleeping bag, mattress and extra clothing. By Peruvian law, a duffel bag must not weigh more than 7 kilograms (15lbs). This limit is set to protect the health of the porters or horses. All bags will be weighed before being accepted. If you require more than 7 kilograms, it will then be your responsibility to carry the extra weight with your day pack. In this 7 kilos, please count 2 kilos for your sleeping bag and 1 kilo for your sleeping pad. This leaves you about 4 kilos for your personal gear.
2 t-shirts
2 hiking pants at least
4 sets of undergarments
3 sets of hiking socks
Bathing Suit for the thermal waters
Couple Fleece/ Thermals
Warm clothes, down jacket — 2nd campsite temp around 3º C
Waterproof gloves (even if they are ski gloves, take them)
Comfortable shoes for camp
Quickdry towel. We provide small ones, you might prefer something larger
Small bottle of soap: we provide warm water each day to wash
Battery charger: No electricity along the trek
Large plastic bags will be provided at the office — Please ask for them
Sleeping bag: It has to be at least -15ºC – This can be rented from us
TOILETRIES
Face moisturizer
Hand Sanitizer
Wet wipes
Toothbrush and toothpaste
Personal medications
First aid kit: band aids, moleskin, etc
WHAT TO PUT IN YOUR BACKPACK FOR THE LARES TREK & 2 DAY INCA TRAIL PACKAGE
We highly recommend a small backpack 30 to 40L for hiking in the day. A big backpack will not be allowed into Machu Picchu. The remainder of your belongings will be in your duffel bag at camp.
Water: Please supply your own water until the first lunch spot, then we will provide you with cold boiled water at every meal time. Please bring your canteens.
Sun hat
Sunscreen
Headlamp: essential
Wool hat
Rain gear
Fleece
Snacks like chocolate bars, cereal bars or any dry fruits
Coca leaves.
Rain plastic poncho (provided by SAM)
Gloves
Camera
Hand sanitiser
Toilet paper and small plastic bag for waste
Extra money for souvenirs, drinks & tips