If you are keen for a challenge, Sam Travel Peru has the Choquequirao trek, that will exhilarate your senses and challenge you to the core physically and mentally. Be prepared for the remoteness and inaccessibility of this Inca City ruin that is located at (3,050m/10,006ft) above sea level in the province of La Convencion. The twin city to Machu Picchu but 3 times larger yet purely untouched and recluse. Although not as quite impressive as Machu Picchu, it has a very similar structure and architecture. A new adventure that you definitely must visit.
The Choquequirao trek to Machu Picchu; a quiet, unpaved dirt trail challenging, yet mesmerizing in beauty, daringly adventurous – that provides a unique alternative to the busy Inca Trail. The trekker's port hole of opportunity to visit both Choquequirao and Machu Picchu.
For those serious hikerswho dare to enter the untamed nature trail of the Choquequirao trek, it can be completed as a stand alone hike not requiring a permit.
Best Time of the Year for the Choquequirao Trek
There are two main seasons in the sub-tropical Peruvian Andes:
The dry season runs from late April through to early October.
The wet season starts mid to late October and ends in April.
But, When is the best time of the year to do Choquequirao Trek?
The Choquequirao Trek can technically be completed all year round, the peak trekking season to Choquequirao occurs during the dry season and is busiest between May and September. So, the best time of year to hike the Choquequirao Trek is from the shoulder of wet months March/April all the way through to the shoulder of dry months October/November.
What was the Choquequirao Inca Ruins?
Choquequirao, meaning Cradle of Gold, was the control gate between the Amazon and the city of Cusco. An Incan City built during the late 15th and early 16th century. Choquequirao is filled with ruins, its buildings and terraces tuck in below a flattened hilltop, levelled several hundred years ago, and circumferenced with stones to create a platform. Built as a cultural and religious center, it still stands tall in high status exposing the number of niches and double doorways that once overflowed in stature. Choquequirao is located above the valley of Apurímac river, 98kms/61mls from Cusco and in the Willkabamba mountain range, covers an area of 6 square kms.
We are the only company who take you to the hot spring of CONOC after the long hike and even explore the unique Inca ruins of Saywite. We are specialists in this amazing route and offer the most frequent departures with experienced and professional guides. Check out all of our options to discover why.
See the links below with detailed itineraries and alternative trek information on our ChoquequiraoTreks. Here are the links to the Alternative Choquequirao Treks:
What is the Difficulty of the Choquequirao Hike
The trek to Choquequirao trek is not for the average hiker. The trail includes a steep ascent from the valley floor to the crest of the mountains and high cloud forests that hide Choquequirao. To deal with such a steep incline, the trail uses a number of zigzagging turns, although the incline still takes a toll on hikers. Luckily, the final stretch of trail that leads towards Choquequirao is level.
Although the journey is difficult, stepping onto the site's fully restored central plaza for the first time will surely prove to you that the journey is worth it. It's also likely that no other person will be around, and you'll have the Choquequirao ruins to yourself.
How Much Distance do you walk to Choquequirao?
From the village of Cachora to Choquequirao are walking about 31 kilometers without including the tour of the Inca Ruins. Back would be the same distance (62 km in total). A large part of the tour involves the descent of a large mountain while the other half is on a rise of 60 to 70 degrees of inclination
Trekking Information to Choquequirao Distance, Altitude
Cumulative Ascent Rate: 1676m
Cumulative descent rate: 1676m
Maximum altitude: 3.137 m Choquequirao
Minimum altitude: 1.461 m Playa Rosalina next to the Apurimac river halfway to Choquequirao
Tips To Avoid Altitude Sickness In Cusco
Relax and take it easy!. Take a few days at the start of your trip to acclimatize to the altitude before attempting any treks or strenuous activity. This is the easiest advice we can share, take it easy for the first few days and your body will thank you later, stay for at least 2 days in Cusco city…
Get lots of sleep. Sleep is the best remeday of all! Do not be afraid to just sleep it off as your body adjusts.
Avoid alcohol & drugs. This includes sleeping tablets and tranquilizers as these can all make the symptoms worse.
Drink lots of water. Staying hydrated prior to and throughout your trip is crucial to avoiding unpleasant altitude sickness symptoms.
Drink coca tea. Nearly every hotel in Cusco and the Sacred Valley offers fresh coca tea to guests and for a good reason too! Coca tea is completely safe to drink and a cup or two each day can ease altitude symptoms.
Go lower and acclimatize. Head straight to the lower altitude of the Sacred Valley or Machu Picchu.
Get an Oxishot! Oxishot is a small dischargeable can that contains 8 litres of oxygen that you can take when you arrive in Cusco and anytime you need a boost. It can help reduce headaches and fatigue associated with altitude sickness.
Visit your doctor. If you are still worried before you to travel, head to your doctor and ask for an acetazolamide prescription (also known as brand name Diamox) which can be taken to help avoid altitude sickness symptoms
How much should I expect to pay for the Choquequirao Trek?
The easy and safest way is to take a tour, which costs around $450 to $977 USD with everything included (always check what it included). Price is based on the number of days you choose to trek from 4, 5, 7 or 8 days. When choosing a tour operator for this trek, be sure that the agency is the company that is actually providing the trek and that they guarantee departure if a minimum of 2 or more people book because some companies will cancel if they do not get enough people.
Their price may be lower because they need a higher minimum number of people to trek. Since this trek is challenging thus fewer people trek it; it is very possible they may not get enough trekkers and cancel at the last moment. Be sure to book with an agency that actually provides the trek and guarantees the trek if 2 or more people book it.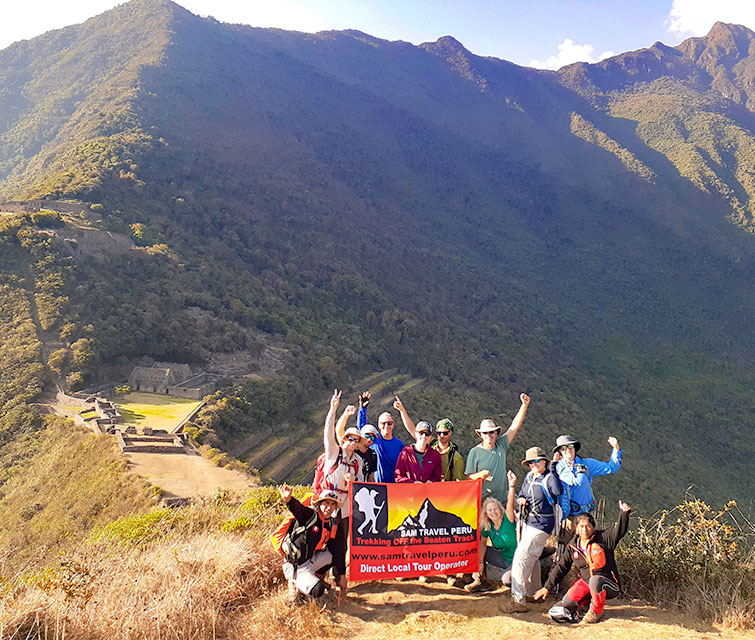 Packing Checklist for Choquequirao Trek
What you have to take with you?
Original passport (it has to be the same you have used for booking your trek)
Good daypack (the smaller, the better)
Water storage: 2-3L reusable water bottles (Camelbaks are encouraged)
Comfortable hiking boots with ankle support
Sleeping bag (can be rented from several different agencies in Cusco)
Headlamp: essential
What to put in your duffle bag for the Choquequirao trek?
Most tour companies will provide you with a duffel bag at your briefing and include horses who will carry up to 7 kgs or 14 lbs including your 2.5kg sleeping bag, mattress and extra clothing. By Peruvian law, a duffel bag must not weigh more than 7 kilograms (15lbs). This limit is set to protect the health of the porters or horses. All bags will be weighed before being accepted. If you require more than 7 kilograms, it will then be your responsibility to carry the extra weight with your day pack. In this 7 kilos, please count 2 kilos for your sleeping bag and 1 kilo for your sleeping pad. This leaves you about 4 kilos for your personal gear.
2 t-shirts
2 hiking pants at least
4 sets of undergarments
3 sets of hiking socks
Bathing Suit for the thermal waters
Couple Fleece/ Thermals
Warm clothes, down jacket — 2nd campsite temp around 3º C
Waterproof gloves (even if they are ski gloves, take them)
Comfortable shoes for camp
Quickdry towel. We provide small ones, you might prefer something larger
Small bottle of soap: we provide warm water each day to wash
Battery Charger: No electricity along the trek
Large plastic bags
Sleeping bag: It has to be at least -15ºC
Swimming Suit
Toiletries
Face moisturizer
Hand Sanitizer
Wet wipes
Toothbrush and toothpaste
Personal medications
First aid kit: band aids, moleskin, etc
What to put in your backpack for Choquequirao trek
We highly recommend a small backpack 30 to 40Litres for hiking in the day. With the difficulty of this trek, you do not want to carry a large heavy day pack. The remainder of your belongings will be in your duffel bag at camp. The horses will carry that.
Water: Please supply your own water until the first lunch spot, then the company should provide you with cold boiled water at each meal time.
Sun hat
Sunscreen
Headlamp: essential
Wool hat
Rain gear
Fleece
Snacks like chocolate bars, cereal bars or any dry fruits
Rain plastic poncho
Gloves
Camera
Hand sanitizer
Toilet paper and small plastic bag for waste
Extra money for souvenirs, drinks & tips
Choquequirao trek with kids
Taking kids to Choquequirao is a great challenge because it is hard mentally as physically and will depend on their experience level and attitude. Even more, if you are planning Choquequirao-Yanama-Machu Picchu with young children, then please reconsider making an assessment, unless they can ride horseback, but overall the hike is a heavy version for them. The key is acclimatization before starting the trek and a lightweight package.