SAM Travel Peru has Guaranteed and Flexible Departure Dates, we only need a minimum of 2 trekkers and a maximum of 8 for all of our listed tours and trek.
Advance Planning: Availability of permits for the Inca Trail to Machu Picchu is limited and sells out quickly, especially during the high season (May to September). It's crucial to plan your trip at least 6-12 months in advance.
Check Availability with SAM Travel Peru: Then you will be informed about permit availability for the dates you wish to travel. Make sure to have multiple dates in mind in case your preferred dates are already booked.
Make an Early Reservation: Once you find availability on a suitable date, make a reservation and pay a deposit to secure your spot on the Inca Trail.
Provide Personal Information: You will need to provide personal information and valid passport number in order to buy all the permit application on your behalf.
***Clients name: Name exactly as written on passport, Passport Number, Date of Birth, Nationality and Gender
Wait for Confirmation: After your travel agency submits the permit application, you will need to wait for confirmation that the permits have been obtained. This can take several weeks.
Prepare for the Trip: While waiting for permit confirmation, make necessary travel preparations such as booking flights, reserving accommodations in Cusco, and packing appropriately.
Enjoy the Inca Trail: Once it's confirmed that you have the permits, you will be ready to enjoy this incredible hiking experience through stunning landscapes and impressive archaeological sites.
***The maximum number of Inca Trail permits is 500. Support staff is included within the five hundred, meaning that about 250 pemits are allocated for tourists and about 350 for cooks, porters and guides each day. Inca trail permit availability shown here in is directly provided by the Peruvian Government.
SAM Travel Peru tries to provide information that is true and accurate, however, we give no assurance or warranty regarding the accuracy of information provided by a third party. SAM Travel Peru accepts no responsibility for and excludes all liability for errors or inaccuracies. SAM Travel Peru makes its best effort to secure permits for our customers, however, permits are sold by the Government on a first come, first serve basis.
3, 4, 5, 7, Days Classic Inca Trail Availability
CLICK EACH MONTH TO CHECK THE AVAILABILITY ONLY FOR THE 3, 4, 5, 7 DAYS INCA TRAIL
Note: If your date is sold out, it is sold out for all travel agencies, there are not more permits!
We need the Inca Trail availability ONLY for the starting date of your trek!
NOTE: February 2024 – The 2, 3, 4, 5, 7 days Inca Trail is closed for maintenance –
We can ONLY operate the LARES TREK to Machu Picchu and TOURS to Machu Picchu during February.
Important Note: We will buy your Inca Trail trek permit using the names and passport numbers that you send us with your trek booking application (they must to complete and accurate)
You must bring the same passport with you to Cusco and take it with you on the Inca Trail.
Very Important Note: If the name or number on your passport does not match the name and number on the trek permit, the government authorities will not allow you to start the trek and you will not be entitled to a refund.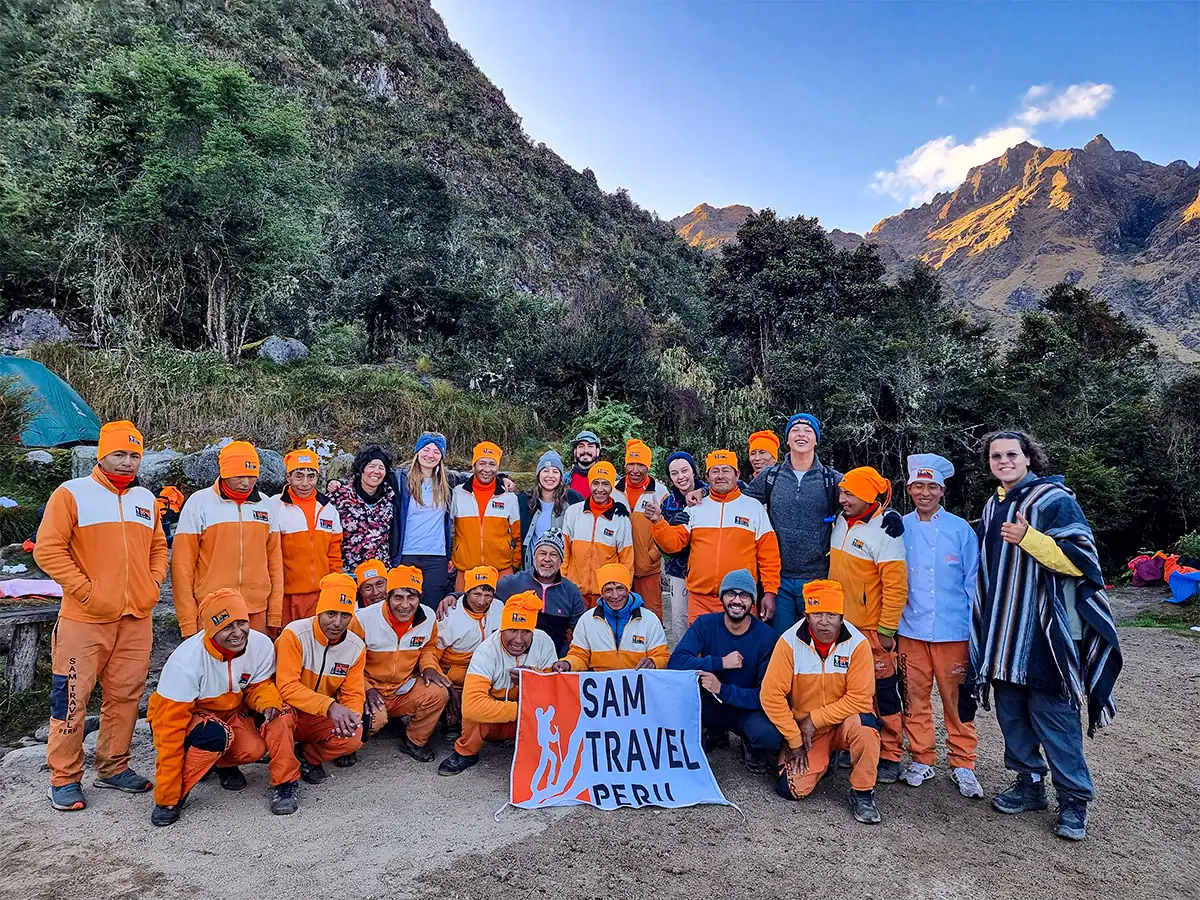 Awards
Travelers' Choice Awards
2023
#1 Rated Tour Opertaor on Tripadvisor
DO not miss the Inca Trail Book now
WHAT TO DO IF THE CLASSIC INCA TRAIL IS SOLD OUT
If permits are sold out for the Classic Inca Trail on your preferred date," don't get stressed out," you have so many options that will still allow you to trek and enjoy the Andes on the way to MACHU PICCHU. Alternative treks are just as beautiful as the Inca Trail. They are less crowded because we take you OFF the beaten track" in the Andes and we make sure you don't miss anything on your trek to MACHU PICCHU.
ALTERNATIVE TREK OPTIONS:
WHY CHOOSE SAM TRAVEL?
SAM Travel Peru is a family owned travel agency and a local tour operator based in Cusco with personal experience over many years of trekking. SAM Travel Peru is a 100% Cusqueñian Company without any shareholders.
Our dream as a locally based company is to create small personalized tours & treks strictly and only operated by local professional staff catering in PERSONALIZED and HIGH QUALITY SERVICE.
We take pride in our reputation as a RESPONSIBLE & SUSTAINABLE tour operator. Our staff are our extended family. We ensure they are supported financially by offering them a fair salary. We are so proud of our team! Without them, we wouldn't be able to offer the best service and lifetime experiences to our clients.
SAM Travel Peru knows how important it is to trust in a reliable honest operator to create your adventure of a lifetime while in Peru. Check out our reviews and certificates of excellence on, TRIPADVISOR for yourself! Also we are highly recommended on Conde Nast Travelers,  Lonely Planet and by many blogs like: Salkantay/Inka Trail ! July 14th to 20th 2016Trek de Lares 4 hours, "It's the journey, not the destination…", Lares Pass – Day 3, Trekking in the Sacred Valley
SMALL GROUPS
To ensure a more personalized service for our guests, at SAM Travel Peru we have a policy that our groups will not exceed 8 people. This fact alone sets us apart from other companies that operate departures with bigger groups.
OUR TOUR GUIDES
We are so proud of our guides! They are highly professional and speak fluent English. They are very knowledgeable and passionate for Inca heritage and history. Our guides are dedicated to continuous personal and professional development. They do research to ensure that you receive accurate and recognized theories in Inca and Andean culture. Our crew is fun loving, great sports and well-educated. They all hold degrees in one of the following: Archeology, Tourism, Botany, History or Anthropology.
OUR SUPER PORTERS (The Orange Machines)
Trekking with SAM Travel Peru is a life changing experience with a fully portered trek, where your comfort and enjoyment are our first priority. We make sure that you get the best experience for your holiday in Peru, while you interact with the locals, explore fantastic sites and re-discover remote ancient Inca towns. Our porters will carry your gear, prepare your meals, set up your tents by avoiding crowded campsites and take care of you while you sit back and relax.
We provide the following items to our porters for free: Jacket, sun hat, warm hat, t-shirt, pants, hiking boots, comfortable duffel bags, canteen and girdle for protecting their spine, sleeping bags, mattresses and travel insurance. All of our porters are hired from isolated communities and are given the opportunity to work with our company, in regards, to better their economic circumstances as well as getting help for their children's education! We ensure that all of our porters are treated like family!
OUR EQUIPMENT
Our team (guides, cooks, porters, horsemen) and our equipment also makes SAM Travel Peru stand out from all of our competitors! For all our adventurous hikes, we include the following items:
OUR TENTS: Enjoy a good night's sleep in our 4 season EUREKA Timberline tents. All our tents are 4 person tents, ONLY 2 persons will sleep in each, leaving lots of room to spread out comfortably and store your duffel bags. They also include a little vestibule, giving you some extra outdoor space to leave your boots and walking sticks so you don't have to bring in dirt.
OUR FOAM MATS: They are included to separate and insulate you from the ground.
AIR MATTRESSES can be rented for $20 USD.
OUR KITCHEN & DINING TENTS: The dining tent is used as our meeting room at meal times. This is a great time to sit back relax and catch up for a chat.
OUR TABLES & CHAIRS: The interior of the dining room includes tables and chairs with two doors on each side, adapting to the day's weather.
DUFFEL BAGS: Will be provided at briefing time the night before the trek.
MORE: Pillows, backpack rain covers, survivor t-shirts, bio chemical toilet are all provided on the trek.
OUR SERVICE PROJECTS
At SAM Travel Peru we have always believed that we should give back to the local isolated communities. Therefore, as part of our commitment to responsible tourism, we always do many social projects and hire locally.
SAM Travel Peru is so proud to be able to support our local people. We not only employing them but we also go back to our grassroots as they share with their families. It makes us happy to have this holistic approach with our highland employees and their families!