Detailed 2-Day Inca Trail Itinerary
DAY 1: CUSCO – KM 104 – WIÑAY HUAYNA – SUN GATE – MACHU PICCHU
With a compacted 2 days of excitement ahead, we will pick you up from your hotel at 4:00am and drive you towards the Ollantaytambo train station. After an hour and ten minutes scenic train ride (Vistadome service) to KM 104 (elevation 2,100m/6,927ft) we arrive at the beginning of our trek. At this point, we begin a moderate climb for three hours towards the chiseled remnants and remote archaeological site of Wiñay huayna, (2,650m/8,747 ft). Enjoy the spectacular plunging views of the Urubamba Canyon and the ethnic wonders of the ancient Inca sites, as you embrace them with an open mind and heart as your connection with the ancient Inca Trail begins. After being at one with this beautiful sight, we will continue onward towards the Sun Gate. (2,730m/9,007ft) Following the ancient remote footpath, we will get our first spectacular view of Machu Picchu Citadel in all its brilliance and majesty. As we move closer towards the citadel of Machu Picchu, you will feel a mystical presence. Then, we will take our bus towards Aguas Calientes, where you will spend the night in our hotel.
Meals: Box Lunch & Dinner
Accommodation: Wiracocha Inn Hotel or Andean Terra Hotel
Difficulty: Moderate

DAY 2: AGUAS CALIENTES – MACHU PICCHU – CUSCO
Today, you will get to explore Machu Picchu citadel and experience its magical presence by taking the first bus at 5:30AM to this archeological site. Upon arrival, you will get to see the sunrise over the entire complex. Take your time, making sure you explore every nook and cranny of this New Wonder of the World and UNESCO World Cultural Heritage site. It will be an unforgettable experience!
Your guide will direct you through the energetic ruins and its diverse main streets. Then on your own, wander around the town square of the world's spiritual center of esoteric wisdom as well as climb the intricately carved stone stairways. Enjoy the pure delight of the moment.
Once the tour is over, you will descend towards Aguas Calientes town when you are ready to eat lunch and board the Expedition train departing 14:55 for your return trip to Cusco. The train will stop at the Ollantaytambo Train Station and you will be driven back to your hotel in Cusco, in our private van arriving at around 7pm.
Meal: Breakfast and lunch
Difficulty: Easy
***IMPORTANT:
You can upgrade to the Vistadome Train for the same times, 2:55pm or 3:20pm, 4:22pm, or 4:43pm. The cost is $67 USD.
Early trains can be organized by requested and it has to be done by booking time.
The Huayna Picchu Mountain Hike depends on availability and let us know about it at booking time.
On the 2 day Inca Trail, we will be doing the circuit #3 or 4 and there is now way to do another circuit unless you buy an additional entrance to Machu Picchu.
OPTIONAL extra tickets for Machu Picchu (Circuit #1 or #2 ) will cost uS$55

WHAT IS INCLUDED FOR THE 2 DAY INCA TRAIL?
Hotel pick up
Private transportation from your hotel to the train station
3 Bus tickets from Aguas Calientes -Machu Picchu – Aguas Calientes
English speaking guide experienced in trekking.
Private guided tour in Machu Picchu
Expedition Train from Aguas Calientes to Ollantaytambo with private van connection to Cusco.
Free pair of walking sticks
Admission Tickets to the Inca Trail and Machu Picchu Archaeological site.
One night accommodation in Aguas Calientes (hot shower,bathroom, private room and breakfast included)
First-aid kit including emergency oxygen tank
Taxes
WHAT IS NOT INCLUDED FOR THE SHORT INCA TRAIL?
First breakfast (Usually served in Hotel).
OPTIONAL UPGRADES: 3*** Hotel (US$50).
Last lunch after Machu Picchu
Huayna Picchu mt: US$75 per person
Machu Picchu Mt: US$75 per person.
Tips for your staff (Sam Travel Peru staff receives a fair and decent payment immediately after they end their trip, tips are optional but greatly appreciated)
The 2 day Inca Trail is available on almost any day that suits your schedule – we only need a minimum of two people in order to book.
PRICES
$457 USD per person with a 2 star hotel (single traveler supplement $30 USD extra)
$477 USD per person with a 3 star hotel (single traveller supplement $50 USD La Cabaña/$75 USD Casa Andina 3*)
EXTRAS
Single supplement $30 USD per night (for solo travellers with single room)
Free duffel bag (5 kilos): to your hotel in Aguas Calientes for those staying extra days
DISCOUNTS
18 to 25 years old:$30 USD Information required on student card: name of university, student name, photo of student, expiration date etc. A copy of the card at booking is required & government approval for discount.
Under 18 years old:$30 USD Please send us a copy of your passport at the time of booking.
Under 11 years old:$40USD Please send us a copy of your passport at the time of booking.
*** The 2 day Inca Trail to Machu Picchu is almost always available year round except it is closed in February for maintenance — This trek takes you into Machu Picchu by walking through the SUN GATE like in the ancient times, you will explore some amazing Inca ruins along the way like Wiñay wayna.
CHECK YOUR 2 DAY INCA TRAIL TREK AVAILABILITY BY CLICKING ON MONTH OF YOUR CHOICE!
FREE ADDED VALUES
TRANSFER FROM AIRPORT: to your hotel in Cusco included (Airport to Hotel in Cusco only).
SMALL GROUPS: average 4 to 6 with a maximum of 8 hikers
FREE: pair of walking sticks
VISTADOME TRAIN Included (From Aguas Calientes to Ollantaytambo )
AFTERNOON TRAIN: We give you enough time to explore Machu Picchu and have a relaxing lunch at Aguas Calientes. Your train back to Ollantaytambo is at 4:22pm, and when you arrive in Ollantaytambo you catch your private van to Cusco, arriving in Cusco by 8:30 PM.
HOTEL AT AGUAS CALIENTES: includes private bathroom, hot shower, buffet breakfast, and wifi etc.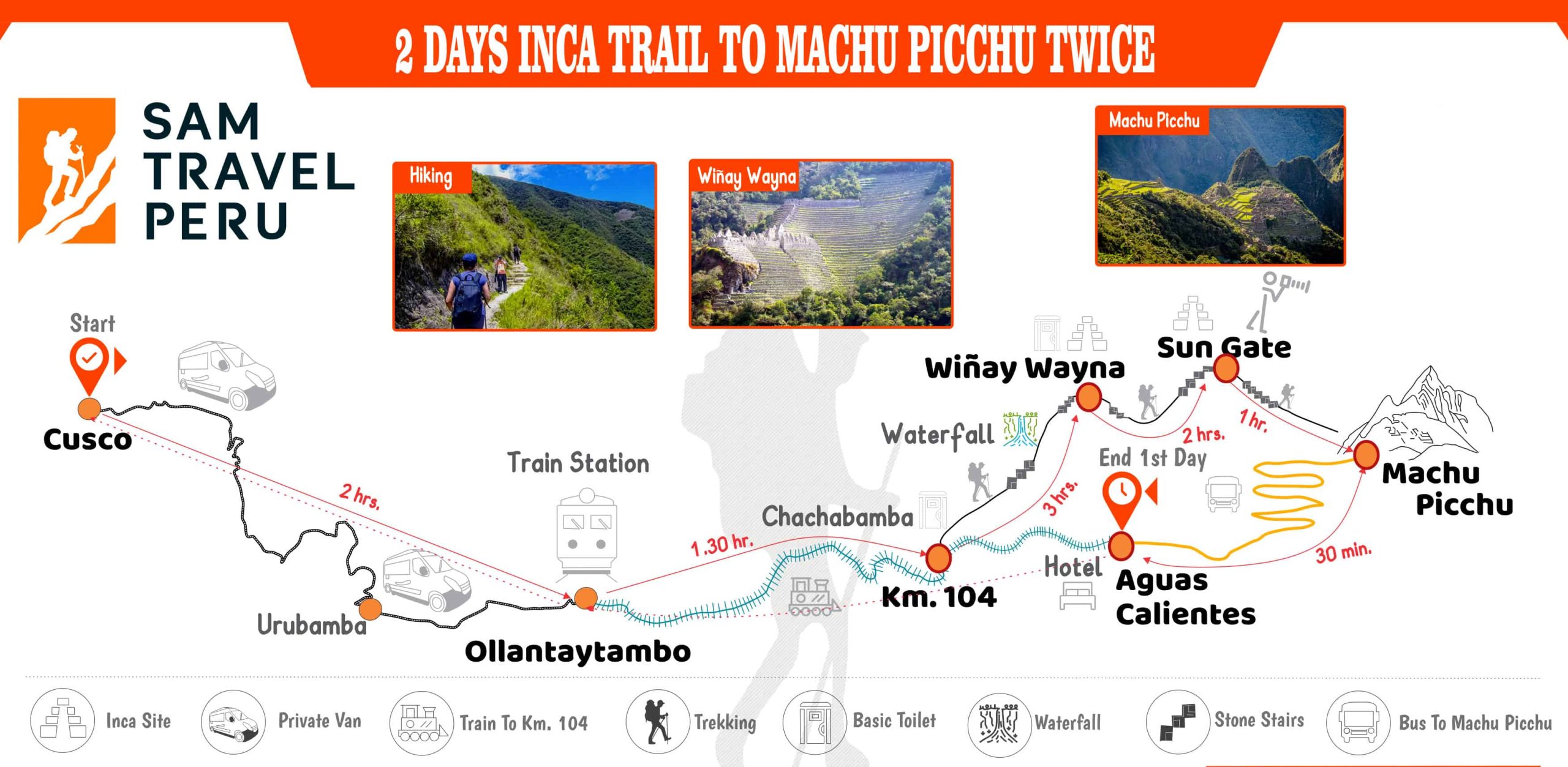 Please read carefully the following information as it will help answer all of your questions about our services and the Short Inca Trail Trek below:
ARRIVAL TO CUSCO
You will be welcomed at the Cusco airport by one of our representatives and taken to your hotel. Please ensure that you inform us of your flight details at least 14 days prior to your trek. Look out for our representative holding an orange board SAM Travel Peru at the arrival terminal. You must exit the terminal, in order, to find our representative (they cannot enter inside).
THE BRIEFING
Your briefing will take place the night before your tour. It will be held at our office at 6 or 6:30pm, depending on your confirmation email details. The office is located at Calle Santa Teresa Nº383 ; office 107 (second floor). We are next to Subway sandwich shop and share a lobby with Hotel Casona Corrales.
CAN I STORE MY LUGGAGE AT YOUR OFFICE?
Of course! During the 2 day Inca Trail, your main luggage can be store at our office or at your hotel, both are free. Please pack things you will only need during your Short Inca Trail.
HOW TO BOOK THE SHORT INCA TRAIL TREK?
FIRST, to book your 2 day Inca Trail Trek, we need you to fill out our booking form by clicking on BOOK NOW on our homepage or click here this link: BOOK NOW.
Please be ready with the following information (FROM EACH PARTICIPANT in your group). We cannot purchase Short Inca Trail permits without the following information:
Personal information (your full name, exactly as on your passport):
Gender
Passport number
D.OB. (dd / mm / yyyy)
Nationality
***We required copies of everyones' passport as they are required when purchasing permits.
SECOND, we require a deposit of $200.00 USD per person, in order, to purchase a permit for the Short Inca Trail. You can make your deposit by clicking on the VISA or PAYPAL symbols on the top of our home page or click on the VISA or PAYPAL symbols on our booking page.
WHAT ABOUT THE BALANCE?
It would be greatly appreciated if you can pay in cash at our office (we accept US dollars or Peruvian soles). We have many ATMs within the historical center. You can also pay by VISA or PAYPAL online but you will have to pay a 5.5% service charge, charged by VISA and PAYPAL. To pay your balance through PAYPAL, you need to log into your PAYPAL account using our email address of: samtravelperu@gmail.com.
MAY I CHANGE THE DATE AFTER THE PERMITS HAVE BEEN BOUGHT?
Unfortunately the answer is No. Once the 2 day Inca Trail permits have been bought the Peruvian government does not allow any changes so we can't change any dates after the permits have been bought. The Short Inca Trail permits are not transferable nor refundable.
*** If you cancel your 2 day Inca Trail to Machu Picchu, the deposit is not refundable at all!
DO I NEED MY ORIGINAL PASSPORT ON THE 2 DAY INCA TRAIL TREK?
Yes! You have to bring your original passport and it is very important that it is the same passport you sent us to book your Short Inca Trail permit. Passports will be checked when you enter Machu Picchu, the Inca Trail and board the train. In case, you are renewing your passport, go ahead and send us a copy of your old passport to secure your permits and we can change it when you get your new passport. Please send a copy of your new passport as soon as possible.
WHAT DOES THE 2 DAY INCA TRAIL TREK LOOK LIKE IN PEAK SEASON?
It could get a bit crowded but with regulations in place by the Peruvian government to limit the amount of persons per day, there is enough space for everyone. To improve your experience on the Short Inca Trail, we have small groups with expert guides.
ARE WE DROPPED OFF AT OUR HOTEL AFTER THE 2 DAY INCA TRAIL TREK?
Absolutely! Included within our package, is hotel drop off after your trek. If you have booked your hotel in the Sacred Valley, like Ollantaytambo or Urubamba, we will drop you off there too! Please send us your hotel information to better coordinate your drop off!
TIPPING
If you're happy with the services provided, a tip – though not compulsory – is appreciated. While it may not be customary, it is of great significance for the staff who will take care of you during the trek. It inspires excellent service and is an entrenched feature of the tourism industry across many SAM Travel Peru destinations. Of course, you are free to tip as much as you would like, depending on your perception of the quality and the length of your trip. Remember, a tip is not compulsory and should only be given when you receive excellent service.
ARE YOU SUSTAINABLE?
Yes, we are a locally sustainable & responsible tourism operator! We incorporate universal principles of tourism: protect the environment and benefit the local communities respecting their culture and religion. With this in mind, we have trained all our staff to know, understand and respect local places and its people.
PACKING LIST FOR THE 2 DAY INCA TRAIL TREK
The 2 day Inca Trail TREK DOES NOT INCLUDE an extra porter so you will need to carry all your things. Please try to pack as light as possible, which is key to enjoying this amazing trek.
Original Passport ( the same you have used for booking your trek)
Good daypack (25 to 30 L)
Water 1 to 2 liters of water
Comfortable hiking boots with ankle support
Toilet Paper
1 t-shirts
1 hiking or comfortable pants
Undergarments
Hiking socks
Polar or sweater for early mornings and evenings
Jacket
Face moisturizer
Hand Sanitizer
Wet wipes
Toothbrush and paste
Personal medications
Sun Hat
Sunscreen
Wool Hat evenings or early mornings
Rain jacket – rainy season
Snacks like chocolate bars, cereal bars or any dry fruit
Rain plastic poncho (provided by SAM)
Camera
Extra Money for Souvenirs, Drinks & Tips